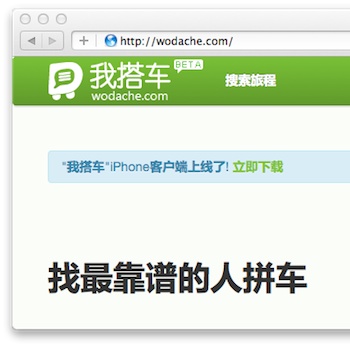 From Wikipedia: "Carpooling (also known as car-sharing, ride-sharing, lift-sharing and covoiturage), is the sharing of car journeys so that more than one person travels in a car."
Wodache (loose translation means 'hiring a car') makes carpooling simple in Beijing. A user can simply log on to the site or iPhone app to search for a carpool ride. Each available car is shown on the map with pins. You can also also find out more about the driver, such as:
where he/she is driving from and to where
time and dates of driving
personal particulars and contact details for verification and easy communication
The service is a very welcome service from a consumer's standpoint. Beijing's traffic jams are about as badass as Jakarta's and it doesn't help if folks drive cars with no one inside but the driver. Having more people packed onto a vehicle saves costs, and helps reduces traffic jams too.
Co-founder Eric Wang said that the he and his founding partners — Jeff Hsu and James Hu — have long wanted to create a business that solves a real problem and is also profit driven. He shared some more thoughts with me:
The way China's automobile development is definitely unsustainable. There has to be a market-based solution to solve this problem. At the same time, I have always wanted to work on a social enterprise where it is a business not only makes money but also contributes to society. After thinking for a few months, my parters and I all bought a one-way ticket and flew to China. We collectively gave up our lucrative careers (Investment Banking/Microsoft/Apple, full-scholarship Ph.D at UCSD, house and car) and against our parents' wishes to come to China to make a difference.
The team is made of folks who are successful corporate people, working in the some of the most admired banks and technology companies in the world. Eric, Jeff, and James all grew up in the U.S but decided to head to China to create something big. But the startup also faces competition from similar services. Some related ones which we have covered so far include Yongche (black car service), Duducars (Dudu car rental using RFID card), and Ika Mobile's car rental aggregator app. The one closest to Wodache is perhaps PickRide which is specific to carpooling only.

Facebook Conversation
comments