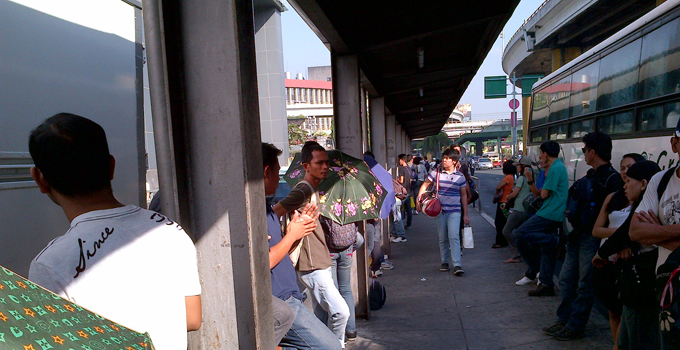 We've repeatedly cited in the past that people in the Philippines, especially those in Metro Manila, are huge adopters of new gadgets such as smartphones and tablets. Plus, they consider their mobile devices their most important pieces of technology. It also follows that the people would be very inclined to access the internet through their devices.
Alleviating transportation inconvenience
In line with this trend, the local government of Manila announced its rather ambitious project of installing wi-fi at waiting sheds in the capital. For a start, "12 innovative waiting sheds" will be spread across the city. Whether it looks to construct brand new waiting sheds altogether or simply equip the old and rusty waiting sheds with wi-fi is unclear.
Prior to this, some buses have been prohibited from entering the city, which caused the city government to create additional loading and unloading areas and more inconvenient stops for some commuters. Now, putting up wi-fi connections at waiting sheds seems to be its new action to offer commuters. The idea is to allow the commuters to access the internet while waiting for buses or jeepneys.
Why won't it work?
Providing free wi-fi access sounds awesome. But doing so out in the open, in the streets of Manila, just won't work. For one, only a few courageous people will even dare to pull their phones from their pockets. Why? Because whether the government admits it or not, a huge number of snatchers and pickpockets are scattered around the city.
The commuters who succumb to the available internet connection will simply risk losing their phones, or worse, risk their own safety. As Filipinos know, bad guys will use any means to snatch people's things. They might carry guns or knives in case their culprits fight back. Looking at the scenario this way, it could bring about higher crime rates in Manila.
I think this goes the same for other cities in the metropolitan area. Manila is still far from neighboring countries like Singapore, where people can practically pull out their phones in public places or while walking on the streets. Sure, free wi-fi access is cool, but before such a thing could work in Manila, I believe the government should strengthen its efforts to catch the bad guys in the city, which could take a while.
(Photo credit: Captured by Jesus blog)
(Editing by Paul Bischoff)

Facebook Conversation
comments