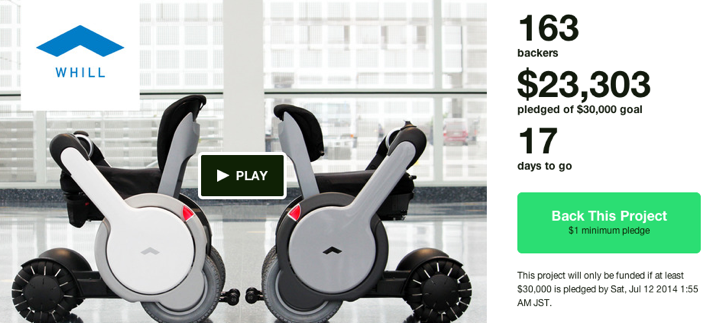 Japanese startup Whill makes an electric-powered personal mobility device that looks like something from a sci-fi movie – just don't call it a wheelchair.
Whill features four-wheel-drive for easy travel across multiple surfaces (including grass and gravel) and omni-directional front wheels that allow for a tight turning radius. It can safely climb 10-degree inclines and has a range of up to 20 kilometers on a single charge. Whill also offers three intuitive controller styles – mouse, joystick, and ergonomic – that can be adjusted for left-handed users.
Despite raising a combined US$1.75 million from a variety of investors (including Japan's own Itochu Technology Ventures, Sunbridge Global Ventures, Mitsubishi UFJ Capital and US-based 500 Startups) since last July, the company launched a Kickstarter campaign on June 12 with the goal of generating buzz in the US market. The Whill team, which is spread out between Tokyo and San Francisco, seems to have succeeded – the campaign has already raised over US$23,000 of the US$30,000 goal with 17 days to go.
"We decided to get on Kickstarter for two reasons," Satoshi Sugie, Whill co-founder and CEO, told Tech in Asia. "First is software integration, and second is marketing. We have a lot of attention in Japan, but in the US we're still a very early-stage startup."
According to Sugie, the Whill Kickstarter video has been watched more than 40,000 times. If successful, the funds will be used to develop a smartphone app that will allow Whill to be remotely controlled. It would also show users where to find charging stations and send hardware diagnostic reports back to Whill HQ if any problems arise.
As for marketing, Sugie points to the size of the US power wheelchair market, which he says is 15 times larger than company's home market in Japan. The reason for this disparity should be clear to anyone who has ever lived in Japan – finding wheelchair ramps, large doors, and elevators can be a challenge.
"I think Whill could help to raise awareness about accessibility in Tokyo," Sugie says. "I don't see wheelchair users or power wheelchair users in public very often, I think because it's difficult for them to live in Tokyo. If Whill becomes popular, people might be more interested in the device itself and, by extension, the life of a wheelchair user."
Don't call it a wheelchair
Though he draws a lot of comparisons to wheelchairs and power wheelchairs, Sugie prefers that people refer to Whill as a 'personal mobility device.'

"I think the word 'wheelchair' has a negative connotation," says Sugie. "I think that word is associated with disability or illness, so we want to move beyond 'wheelchair.' We want everyone to get excited about it, regardless of their condition. Wheelchair users will like it because it's a device that isn't just for disabled people."

Sugie points out that the device has not been FDA approved as a medical device – but that the company will seek certification in the future and hopes that medical users will be able to receive insurance reimbursements.

"At this time, we're focused on providing it as a personal mobility device and building a great brand around that. Once people know how great it is, we'll begin selling Whill to the general public. We definitely plan to get FDA approval in the future, but first we're focused on giving early adopters a great product."

See: Terra Motors gets $10 million in funding to roll out electric scooters and tuk-tuks across Asia


The first 50 Whill Type-A personal mobility devices were built in Japan, but starting with the Kickstarter campaign, production has been shifted to Taiwan – a country that Sugie says produces 90 percent of the world's mobility scooters. The CEO is confident that suppliers will be able to ship Kickstarted Whills in December (in fact, Sugie says that the first batch of mass-produced Whills will be sold to the general public starting in September).

"We have a unique and international team with people from America, Canada, Taiwan, Iceland, India, and Japan," Sugie adds. "We've talked to more than 300 personal mobility device users, gone through extensive experimentation and product development. We've kept our users in mind and we are prepared for global distribution."

Front page image via Flickr user Rob Young

Editing by Terence Lee


Facebook Conversation
comments
Powered by Facebook Comments