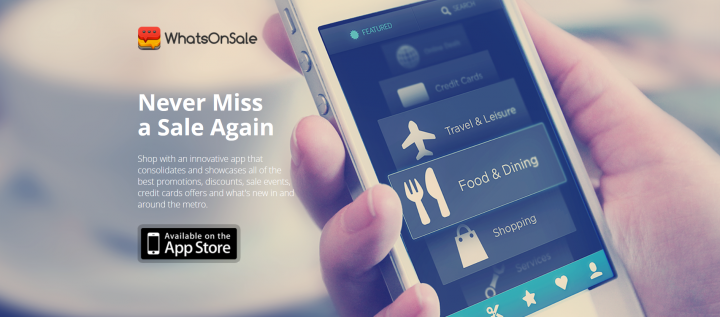 People love buying discounted products and services, so it's no surprise that daily deals sites have been just as well-received in Asia as they've been elsewhere. But in the Philippines, new app WhatsonSale makes it easier for consumers to find promos and discounts in the country.
WhatsonSale founder George Soriano says the creation of the app stemmed from his own desire to find promos and discounted items.
The app is pretty straight-forward. It has categories for shopping, travel and leisure, credit card rebates, entertainment, food and dining, online deals, and services. Users can opt to view all items on sale in a specific category, or opt to filter out the options based on pricing and discount type, or popularity.
Apart from all these options, the search box is available if one already knows what he wants to look for. Location-based promos – knowing promos nearest the users, or selecting a specific city in spotting a promo – are also available. Users can also choose to be informed about sales through push notifications for one or all of the categories.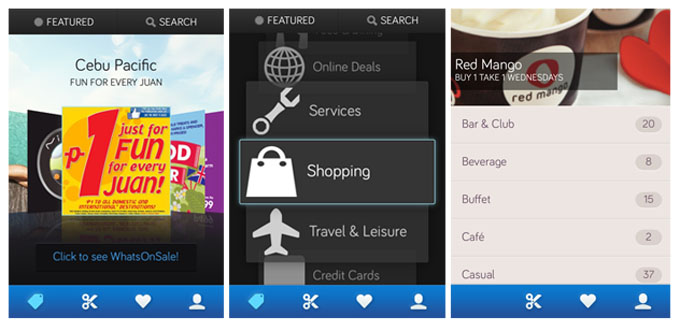 The app already carries over 1,000 merchants spread across various categories. Every sale that's posted is provided with details like contact numbers and Facebook pages. A favorites tab is also available for users to easily view the promos that interest them.
Though daily deals sites already provide much of this, discounts on such sites cannot be claimed right away. Plus, daily deals sites in the Philippines have not yet jumped into creating mobile apps, so WhatsonSale becomes a solution for people who want to get discounts instantly. For example, people can use app on their way to the mall to see if there are any discounts or promos available at restaurants or their favorite stores. Users will also find Groupon-style daily deals in the app. But WhatsonSale will most likely compete with MetroDeal which has already launched its mobile app.
Apart from the Philippines, the app also plans to expand in other Asian countries like Hong Kong, Singapore, Thailand, South Korea, Taiwan, and China.
WhatsonSale is available for free on iOS and Android.
(Source: Coconuts Manila)
(Editing by Steven Millward, Paul Bischooff and Josh Horwitz)

Facebook Conversation
comments