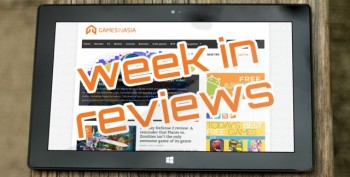 We've had another busy week of gaming here at Games in Asia. Next week is looking even busier — we've got Assassin's Creed Black Flag and Battlefield 4 reviews on the horizon, but here are some of the games we played this week in case you need something occupy you over October's final weekend.
---
Batman: Arkham Origins (mobile)
Score: 6.3
Genre: Fighter
Platform: iOS, Android coming soon
What it is: A mobile adaptation of the Arkham series that keeps the style but forgets about the fun.
---
Ragnarok Odyssey Ace
Score: 6.5
Genre: Action RPG
Platform: PlayStation Vita
What it is: A reimagination of the Ragnarok universe as an action RPG…that doesn't work all that well.
---
Game for Two
Score: 6
Genre: Co-op puzzle
Platform: Android
What it is: A simple puzzle game that's fun with a friend but won't rock your world.
---
Avatar Star
Score: 7.3
Genre: Third-person shooter
Platform: PC
What it is: A cute, fun third person shooter without all the blood and guts.
---
Real Steel World Robot Boxing
Score: 7.3
Genre: Fighter
Platform: iOS and Android
What it is: A fighting game where giant robots bash each others' brains in.
---
Dreadout demo
Score: N/A
Genre: Surival horror
Platform: PC
What it is: This one isn't a full game, but it's a very worthwhile demo if you're looking for something creepy to keep you on edge over the weekend.
---
That's it for this week! Not enough for you? Check out our previous week in reviews posts for more cool Asian games to play.

Facebook Conversation
comments