Ken is a co-founder of diaspora-focused startup CultureMesh. He is based in Silicon Valley and is primarily interested in the use of Asian technology products outside of Asia (or by minority populations within Asian countries).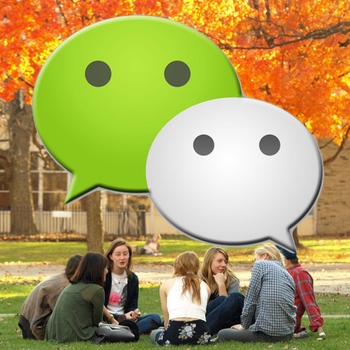 ---
In the world outside China's 'Great Firewall', college alumni associations oftentimes facilitate conversation and event planning via Facebook groups. Chinese colleges, on the other hand, might be keen to gather regional alumni chapters via student-focused Renren, or in QQ groups.
Renren and similar products, however, are only available in Chinese – a major deal-breaker for the mixed-nationality foreign college alumni chapters in China's largest cities. But along came WeChat, with its global ambitions and English-language interface. In fact, if my alma mater of Michigan State University is any indication, WeChat groups could become the go-to communication tool for foreign university alumni in China.
On a recent morning, I awoke to 84 unread WeChat messages from an unknown sender whom I nearly deleted as spam until I found that it was a group chat. I was added to the conversation by Dan Redford, president of the MSU Beijing Alumni Club. We had met a few times due to our shared passion for China, and the thousands of Chinese students attending MSU.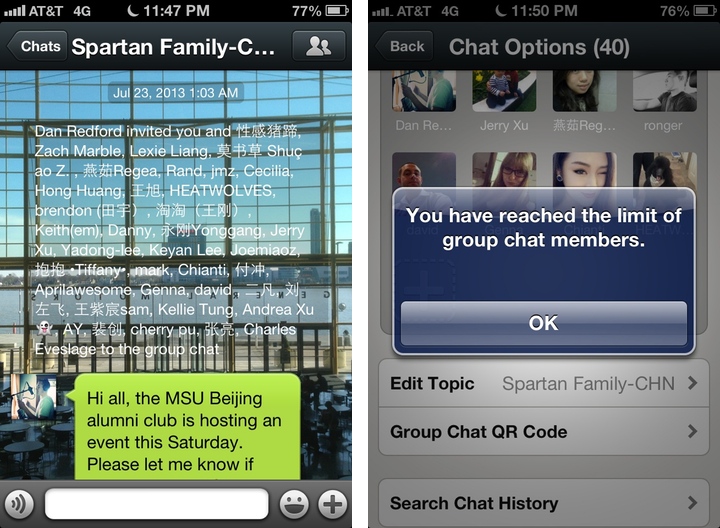 Although I am currently on the other side of the Pacific, I was impressed by the almost daily inundation of alumni conversations via WeChat. Even though these groups are nothing more than an ongoing group text message or a simple chat room, user engagement – albeit from my small sample – appears significantly higher than the average Facebook-based alumni group.
Nevertheless, WeChat needs to address several vital issues if they decide to morph these functions into a more-developed "WeChat Groups" feature.
First, groups are currently capped at 40 members – this number is far too small for most major alumni groups, and I was unable to invite other members until someone left the group. Also, if I were not invited by another group member, I wouldn't have been able to find this alumni chapter, since groups are invisible and unsearchable from within WeChat.
Most importantly, however, WeChat and its parent Tencent (HKG:0700) need to decide whether or not they want to host open, searchable, shareable groups or maintain the current method of one-way, brand-directed conversations from "official accounts". Further, open groups would be a courageous decision, not because it would please a few expat alums, but because it has the potential to provide open access to information beyond the limits of your friend list.
(Editing by Steven Millward and Enricko Lukman)

Facebook Conversation
comments