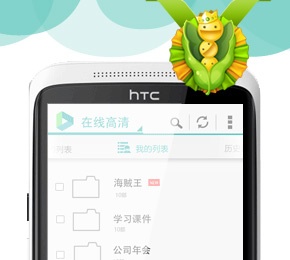 I've long believed that Google needs to do more to push for and promote beautiful-looking Android apps – preferably by splashing out a fair amount of its profits to top developers in the form of awards. But that has never happened. Thankfully one Chinese third-party app store has an eye on aesthetics, running a weekly award for the most gorgeous Android apps.
It's run by Wandoujia, one of China's top alternative Android app stores. Started back in the summer of 2011, the Wandoujia Awards are now in their 57th week of crowning eye-catching Chinese-made and overseas apps. The most recent winner is Vplayer, which is a neat video playing app from a Chinese startup. Previous winners include Flipboard, Path, and DoubleTwist – plus lots of funky Chinese ones like the photo-sharing app Vida, photo-filter app Camera360, and the business professionals app ZaiZher.
Not many major Chinese web companies have scooped up the prize, save for an honorable appearance by Baidu Music, the streaming tunes service from the country's top search engine. Here's the awards page showing the most recent eight winners:
The award from Wandoujia doesn't bring a prize, but it does result in your app getting a very nice promo page, like this one for Vplayer. How's the weekly award decided and what's the benefit? Wandoujia's Kai Lukoff explains:
Each week we collect submissions, discuss, and select one Android app that exemplifies great design – our company has a strong focus on UI/UX. Apps can come from either Chinese or foreign developers, but all apps must have a Chinese version so that our Chinese user-base can enjoy it. We then promote it on our Wandoujia.com homepage and our mobile app, which drives tens of thousands of downloads.
That sounds like a nice boost. Admitedly it might not be enough to spur global developers to follow Android's new UI guidelines for developers more closely, or to stop producing apps that look like they resulted from a chimp being sat in front of a laptop with Coda app open on it [1], but it's greatly encouraging. It's also a useful place for aesthetically-minded Android users to get some pointers towards good-looking apps. For that, the Android section of Beautiful Pixels is a must-visit place too.
Of course, Google does also promote quality apps in this way – by giving them priceless space on the homepage of the Play store app – but, hey, the mighty GOOG really ought to be pushing it a bit harder with some awards like Wandoujia does; and maybe some cash as well. Because it's a great motivator.
---
And that's coming from an Android user.  ↩

Facebook Conversation
comments