Founded in 1997, Pantip.com is the largest online discussion forum in Thailand with 30 million unique visitors a month. The man who founded the popular website in Thailand is Wanchat Padungrat.
In 1995, Padungrat started a computer peripheral trading business with his friend that operated between Taiwan and Thailand. His Taiwanese suppliers told him that it was much better to use email to discuss dealings (prior to using email, he had been using fax). Padungrat recalled that his first ISP in Thailand was KSC internet which provided an email service with 120 minutes of internet usage each month. Padungrat realized that even after using email there were still a lot of minutes left. Instead of wasting them, Padungrat installed Netscape and roamed around the internet. He was very impressed with its content and thought that Netscape was actually the internet.
While feeling impressed with the world wide web, Padungrat bemoaned the lack of Thai content. That got him inspired to build a Thai-language website, Pantip.com, which started off as an online magazine in 1997. He hired some writers for two to three months, but the website unfortunately didn't take off. Padungrat wasn't satisfied and added in classified listings to try his luck at that. He noticed that geeks were using his classifieds site to buy and sell computer parts so he created a computer and gadget listing site which saw some traction. Thus was the so-called 1.0 Pantip kick-started as an online magazine with classified listings.
Inspired by an email
One event that inspired Padungrat was during a conversation with a doctor via email. The doctor sent him an email and suggested that his website was interesting but that he could add in sound to make it more engaging. Padungrat replied and asked how can he make that possible. The doctor then sent him two paragraphs of instructions on how he could do it.
While the idea wasn't great on hindsight, Padungrat said that he was inspired by how the internet can empower idea sharing. He went online and started searching for a platform that could host threaded conversations (back then, the word 'forum' probably wasn't too widely used on the web). Padungrat couldn't find any solution that worked to his liking. He wanted a forum platform that was simple and could be viewed by simply scrolling up and down. With no luck finding such a platform, he created his own.
The initial boom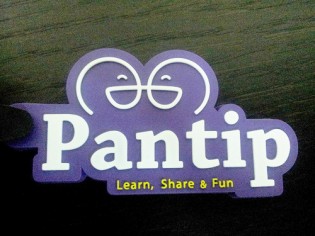 Internet users were scarce in the late 90s. There wasn't SEO, SEM, or social media marketing. Many people didn't know about or feared the internet. To convert non-internet people into internet users, Padungrat started with traditional advertising for his site, placing ads in computer magazines and giving away brochures at computer-related events. Pantip didn't do traditional advertising for long. Once users got to know Pantip, they started to help spread the word. Back then, there weren't many websites in Thai so naturally Pantip became one of the go-to online destinations.
While it started as a computer and geeky forum, Padungrat noticed that people were also talking about politics. People debated their differing views on Pantip, which drew in even more users. Seeing the opportunity, Padungrat created a dedicated thread for users who wanted only to read or comment on political issues. Pantip's user-generated content became more diverse as it added in more topics like teens and automobiles. When Pantip started, it only had 200 visitors a day. Fast forward 18 months and Pantip had hit 6,000 visitors each day.
Making money through ads
While the growth was great, money was still needed to pay the bills. 15 years ago, Padungrat lamented, most media buyers weren't looking at the internet for media placements. Whenever he called ad agencies, they usually referred him to the media buyers who knew little about the web.
Things started to change when Intel Australia decided to buy ad spots on Pantip. Padungrat said that that was one of the turning points for Pantip. Intel, as a strong brand, caught the attention of many ad agencies who started to look at the internet more closely for media placements.
In the two years after Pantip was founded, investors and buyers were knocking at Padungrat's door hoping to invest in the fast-growing Thai internet company. Unlike most internet entrepreneurs, Padungrat didn't take the bait. The conservative entrepreneur felt that things were okay running as it is. He told me:
Maybe I'm too conservative. I don't believe that internet [business] needs a lot of money to run. Because we can do internet business with a very small [investment].
Today, Pantip is still 100 percent owned by Padungrat.
The new Pantip
After more than a decade sticking to the design and infrastructure first created by Wanchat Padungrat, Pantip finally changed its design earlier this year. The change took about 18 months to complete.
Padungrat said that the new design and underlying technology helps to reduce load, runs faster, and reduces server costs. Written from scratch, the new Pantip makes the site more agile and scalable. Adding in new features is now much easier; for example, its community groups feature could be implemented only thanks to the new technology. The new interface also allows users to customize their own pages. Padungrat is excited about the future of Pantip and its new infrastructure, but declined to share more on future product features.
Does Pantip have any exit plans? Not really. Padungrat's goal is still very much building an organization to serve customers better. An IPO is unacceptable for Padungrat because it cannot be guaranteed that investors will take users' happiness as their first priority.
From 1997 to now, Pantip grew from a one-man to a 50-man team. Pantip commands one million unique visitors each day. Besides its online discussion forum, Pantip also runs Pantipmarket.com, a classified listings marketplace, with 180,000 unique visitors per day. Pantown is a customizable online forum engine for users. BlogGang is a blog content management system (like WordPress) that competes with Exteen.
As a CEO, I try to do as little as possible. Like Pantipmarket, once the manager can do everything, I rarely touch on that. I'm too old, around 50, and I can't catch up with the new technology and it's time for the new generation. They understand our users better and are close to the current technology because they grow up with it.

Facebook Conversation
comments