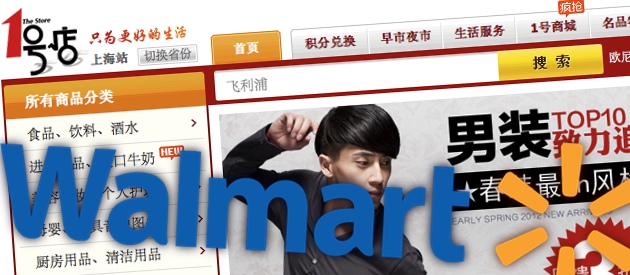 American retail giant Walmart (NYSE:WMT) has taken a majority stake in the Chinese e-commerce site Yihaodian, it has been confirmed today. It means the US firm has increased its stake in the site since its initial investment last summer. But Wal-Mart's 51 percent ownership is still pending local regulatory approval.
Yihaodian, much like Walmart itself, sells everyday items such as foodstuffs and toiletries, but it has also begun to diversify into clothing and consumer electronics recently, treading on the toes of B2C e-commerce market leaders 360Buy (in which Walmart has a small stake) and Tmall.
It's not just online clout that has attracted the US retailer to the Chinese online store. Yihaodian, since its inception in July 2008, has built a sophisticated warehouse and distribution network covering much of the country so as to offer same-day or next-day delivery. Walmart, as one of China's leading bricks-and-mortar supermarket chains – along with France's Carrefour (EPA:CA) – will integrate some of its own logistics with Yihaodian's.
Talking to Reuters this morning, Walmart's CEO of global e-commerce, Neil Ashe, said:
Our further investment in Yihaodian demonstrates that we are committed to investing in China in a key growth industry and developing all that goes with it: logistics, infrastructure, innovative talent and new technologies.
Yihaodian has 5,400 staff and 90 distribution centres across mainland China. There have been rumors that it might seek to IPO in the US sometime this year.

Facebook Conversation
comments