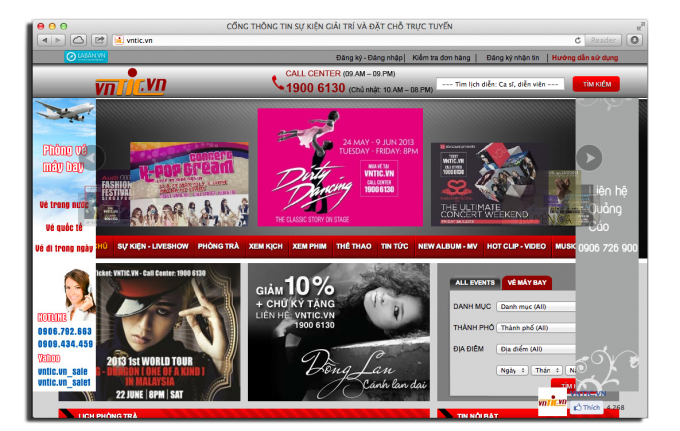 In Vietnam, ticketing is a relatively new place for startups. I've already covered Keewi, which mainly has done ticketing in workshops and community-oriented events, entertainment being a relatively new field for them. And that's been the prime focus of VNTIC since June 2012. It's an online platform for buying and selling tickets for entertainment events.
The eleven-person team is lead by Do Thuy, founder and CEO of VNTIC. Thuy says that his startup all started when:
I went to quite a few shows from foreign performers and saw a lot of problems, especially with Vietnamese audience members. Especially in the aspects of ease to buy tickets, payment, and language barriers. After looking around at the market, especially across Singapore, Malaysia, Indonesia, etc, we saw that we should work with Sistic.
Currently VNTIC is connected to the ticket networks of Sistic, Ticketcharge, and Kiostix, thus they are able to offer Vietnamese audiences access to events on these platforms. This is also VNTIC's key competitive advantage, so if I want to go to The XX show in Singapore this August, I can grab it on VNTIC instead of having to go to the Singaporean distributor. This cuts down on the language barrier, delivery, and access for events for Vietnamese audiences. Currently, Vietnamese audiences can book shows in Singapore, Malaysia, and Indonesia from VNTIC.
But VNTIC also services events in Vietnam for Vietnamese audiences. Really popular stuff like tea shop music (a popular type of music show in Vietnam where musicians play music in coffee shops for small to medium sized audiences), theater, live shows, music shows, and more. Currently, VNTIC hosts over 100 shows of all types.
Since the start last year, VNTIC has had steady growth of events on the website and Thuy is looking towards the future:
We hope to have English on the site but we're not focused on foreign audiences yet, we're also expanding into Indonesia, which has a lot of potential for us.

Facebook Conversation
comments