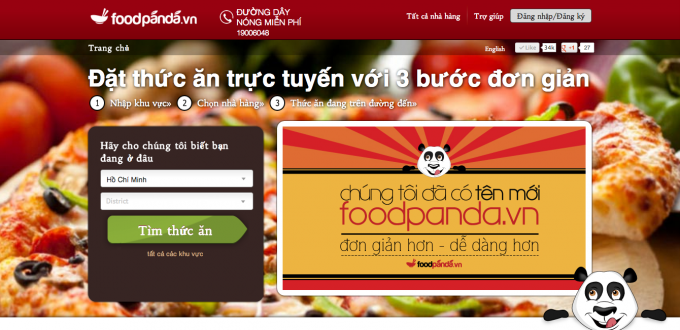 I wrote about Vietnam's food delivery landscape earlier this month, and already there are some new developments in the space. Today, Rocket Internet is finally bringing Vietnam into the branding fold by changing the name of its own food delivery service from Hungrypanda to Foodpanda.
The rebranding just means that the previous domain, Hungrypanda.vn that Vietnamese users have been going to for their deliveries will be shooting over to Foodpanda.vn. As Don Phan, the managing director at Foodpanda says:
We are excited to be now part of the global Foodpanda movement. The rebrand and our new, big partners take us further towards becoming Vietnam's leading food delivery service. For our customers, we want to provide the best and most convenient way of ordering food.
The rebranding also comes along with the announcement that Foodpanda.vn has now integrated Gloria Jean's Coffees, NYDC, BreadTalk, Tokyo Deli, and Subway onto their list of deliverables.
Despite the three big factors of uniting with the international brand, getting a huge infusion of cash, and getting some new restaurants on their online menu, Foodpanda is still going to have to work hard to deal with local incumbents, Eat.vn and Vietnammm, which have been in the market since 2011. So I wouldn't say Foodpanda is on top of the Vietnamese market yet – it still got some way to go. That being said, Rocket's two other big, Southeast Asia-oriented e-commerce properties, Lazada and Zalora, have been outspending local e-commerce sites in Vietnam and seeing huge growth spurts. The same is true for the chat apps like KakaoTalk, Zalo, and Line, who have seen huge user increases as they've upped their spending on television ads and visibility in the country. With a product as simple and consumer-scalable as food delivery, is it a matter of time before Foodpanda steamrolls the local incumbents? We'll see.
Last week we reported that Foodpanda raised over $20 million to expand across Asia. It already operates in nine Asian countries.

Facebook Conversation
comments