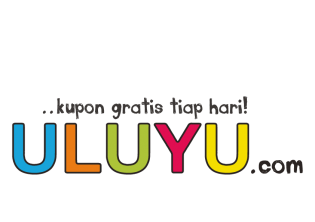 We have covered a lot of Groupon clones in Indonesia, and now one has come to rapid prominence in just seven months into its business. In November 2011, David Suwarto tried to introduce a new look to the Groupon business model, launching Uluyu.com. It gives out free vouchers everyday to its users both online and offline – and for once, users do not need to print anything anymore!
I talked to Dika of Uluyu earlier today and he told me that currently Uluyu has about 400,000 active users from a total of around 550,000 users. So far it has had a total of 200 merchants as its partners. And in the last three months, Uluyu says it had 2,300 vouchers redeemed by its merchants. When I looked up Uluyu on Alexa, the website now stands equal to one of its biggest competitors AdaDiskon. But what makes Uluyu different from competing services? From my observations, Uluyu has three main differences:
Uluyu's Unique Approach
First, while their competitors normally sell vouchers, Uluyu offers free vouchers. After registering and logging in to the website, Uluyu users, called "ULUfrens" by the company, can grab any vouchers (called "ULUpon") by either liking it through Facebook, tweeting about it, or simply just grabbing it. Then users will receive the voucher code to be used at the designated merchants. What happens when you grab vouchers and do not use them? Your user ID will be blocked for a few weeks, depending on the number of violations.
Second, Uluyu does not provide details of the merchants on their website. Users can only see the merchant brand and information about the voucher, but nothing about the merchant's products. When I asked Uluyu about it, it turns out that they intentionally do so not only to keep their website simple, but also so that more users would access the merchant stores and websites out of curiosity about their products.
The second idea behind that is that it's a good way to attract merchants as they would have more potential customers – or, at least, visitors – go see their store. This too, has its disadvantages: you're asking users to explore the products for themselves, which could be tiresome. It's debatable, but it's definitely something different compared to the usual Groupon approach in my opinion.
Third, Uluyu also offers vouchers offline through physical machines in malls around the Jakarta area. Their first mall partner is the biggest mall in the Gading Serpong area called Summarecon Mall Serpong (SMS). There are voucher machines located at the lobby of SMS where passers-by can receive random Uluyu vouchers for free to be used immediately inside the mall. They are currently looking to tie five more mall partnership deals in the near future. David Suwarto, founder of Uluyu comments:
At the moment, Uluyu.com is focusing on giving away free vouchers in the Jakarta area, eventually we will expand (our focus) to the other big cities in Indonesia.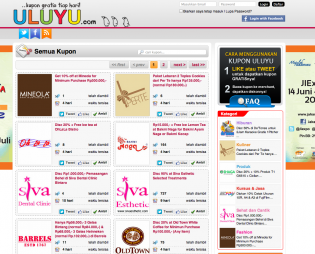 What's more awesome is the fact that Uluyu has given away five free vouchers to purchase a Blackberry Bellagio for only Rp 100,000 ($10) and one free voucher to buy a Toyota Avanza for only Rp 50,000,000 ($5,000). David insists that the added value of Uluyu compared to its competitors is their unique voucher deals. Now, if you are wondering how Uluyu makes money out of their business, it turns out that merchants pay a sum of money for an ad space on Uluyu.
There are also some unique features in Uluyu like ULUbadges and ULU$. ULUbadges reward its users through completion of challenges given, much like Foursquare. ULU$ is quite interesting as ULUpon users will receive 10 percent cashback points from the total value of purchase, which then can be redeemed with promotional products from Uluyu such as gift vouchers and movie tickets. Sadly, the two features are not currently in effect as Uluyu is focusing its resources on other projects at the moment.
So is Uluyu another Groupon clone? I think not. I believe that they are part of the new generation that offers added value through innovation upon the Groupon business model. This trend is now on the rise in Asia including FreeCharge in India and Handsup in China. I believe that we will be seeing more and more innovations like this in near future.
[Hat tip to jagatreview.com [1] [2] (articles in Indonesian) for spotting this startup.]

Facebook Conversation
comments