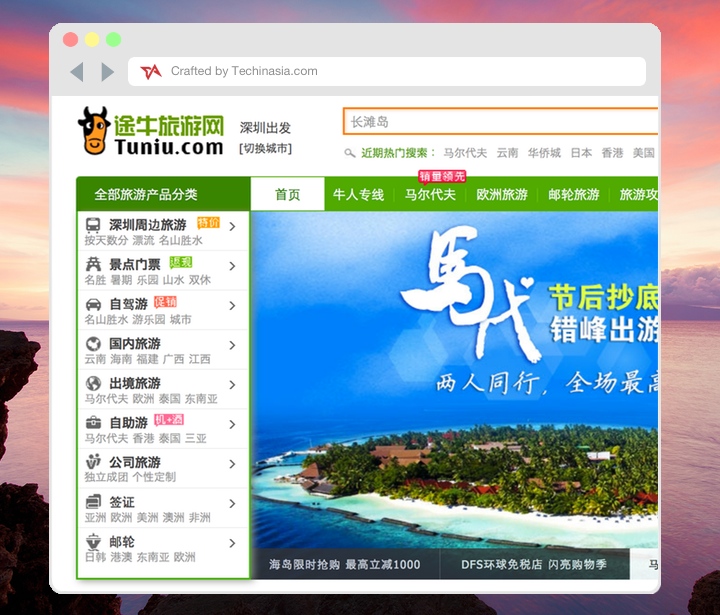 Tuniu, a travel/tours booking site based in China, has revealed today that it's secured $60 million in series D funding. The new investment is led by Singapore's Temasek and US-based DCM.
Rather differently from most travel e-commerce companies in China that concentrate on hotel or flight bookings, Tuniu focuses on tour packages, cruises, driving holidays, daytrips, and company outings. As Tuniu CEO Donald Yu explained to us last year: "Simply put, we don't focus on travel, but rather tourism."
Founded in 2006, Tuniu wrapped up its first major funding round in 2008 from Gobi Partners; series B was led by DCM in 2009, and then Sequoia jumped into the fray in 2011.
Despite focusing on tours, it's still up against major online booking rivals such as Ctrip (NASDAQ:CTRP) and eLong (NASDAQ:LONG), especially as Chinese tourists get more independent and adventurious. It's also battling a new breed of startups offering interesting – if very expensive – curated travel tours, such as TripTM and Zanadu.
Perhaps the Tuniu team can spend some of its funds on a much-needed revamp to its ugly and buggy smartphone apps. The current version of its iOS app has an average two-star rating.
(Source: Sohu Business)
(Editing by Paul Bischoff)

Facebook Conversation
comments