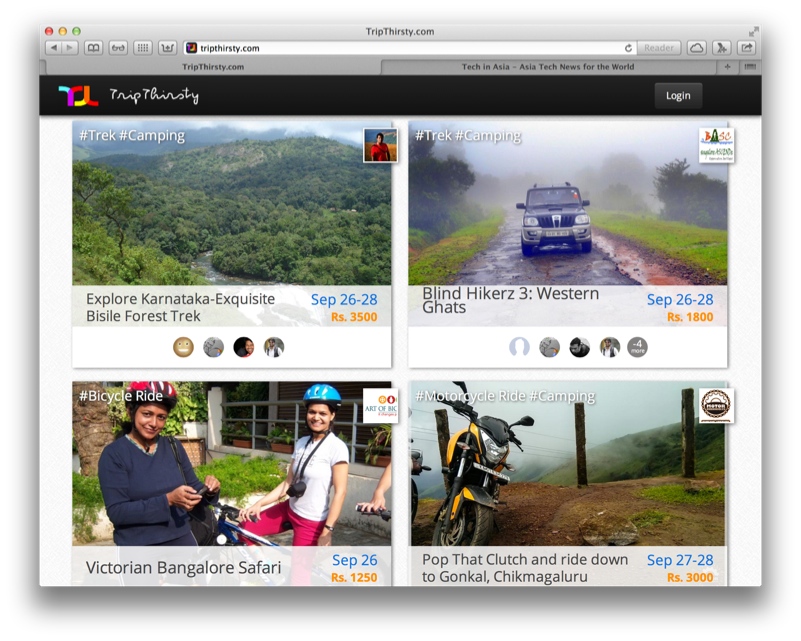 If you want to do more on your holiday than just sit by a pool, there are a growing number of sites that can help you out. Travelers to India who like going off the beaten path can check out Tripthirsty, a new contender in the thriving adventure travel niche.
Tripthirsty aggregates tours from local travel operators, organized along hashtagged themes like 'trek', 'drive' and 'workshop'. On the frontpage right now I see some fun things I'd like to try, like a cycling tour of Victorian Bangalore, a five-day paragliding course in Goa, and a trek to the Dudhsagar waterfall.
So far, the site only has tours that start from near Bangalore, but more cities will be added in due course.
There's already one fairly strong rival in this space in the form of Thrillophilia, which attracted some seed funding earlier this month. Another similar site in India is Tushky.
Tripthirsty actually started out as a sort of Pinterest for travel wishes. But the startup pivoted this week, launching its adventure tours line-up. Its previous concept was pretty dull and wishy-washy, so I'm glad they've gone for something more interesting – and easier to monetize as a business.
(Editing by Paul Bischoff, Anh Minh Do)

Facebook Conversation
comments