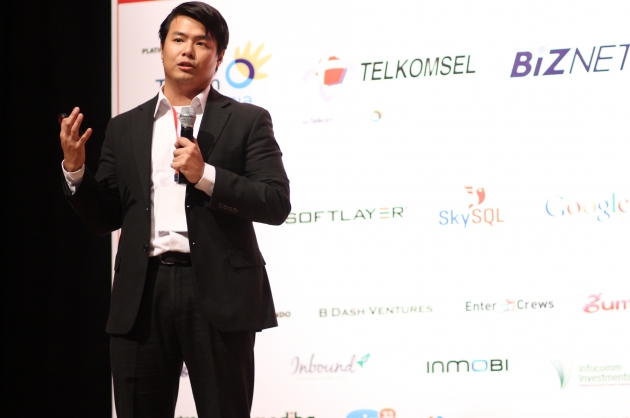 Tripid's CEO, Michael Ngo Dee, took the stage at Startup Arena to address what he calls an "endemic problem" in Southeast Asia: traffic. Jakarta's traffic is certainly quite miserable. Tripid.ph – currently in private beta – tries to help resolve this by creating a "safe, community-driven route-sharing platform" that matches commuters and drivers on the web and on mobile.
In a brief demo, we met "Sam" and "Mike." Sam has a car and wants to share, and Mike is looking for a safe ride. Sam can use her browser to sign into Tripid and add a new route, including times, prices, seats available, and more. Mike can use his mobile device to search for routes, sees her route, and books it. Both users have ratings on the service to show they're trustworthy. At the end of the trip, they press the "end" button and money is deposited into Sam's account. Then they can rate each other. The trip also generates a "trip ticket" that's viewable on social media.
The market for transportation just in Manila is quite large: $15 million. Tripid wants to take a small piece of this, and enable people to meet up based on lots of different factors — for example, Lady Gaga fans can find each other and ride together.
The Tripid team is quite large, and they're hoping to solve a real problem. Between Manila and Indonesia, an estimated $6 billion is lost in productivity because people in both places are stuck in traffic on the roads.
One issue the judges were concerned about is safety. In a business like this, one bad story can kill the entire business. The other problem is that it might be easier for people to just pay directly in cash and circumvent the Tripid payment system, thus robbing Tripid of its cut. Tripid responded that safety has been a primary concern of theirs. The app includes a sort of "panic button" that allows people to ask for help from the community, although exactly how this will prevent passengers or drivers from potential harm or abduction is unclear. Other judges expressed concerns about competition, but Tripid stressed that the service is about building a community first.
[UPDATE: Michael has asked us to include his email address - info (at) tripid.ph - for any potential regional partners who might want to get in touch].
This is a part of our coverage of Startup Asia Jakarta 2012, our startup event running on June 8 and 9. For the rest of our Startup Arena pitches, see here. You can follow along on Twitter at @startupasia, on our Facebook page, on Google Plus, or via RSS.

Facebook Conversation
comments