Singapore's TradeHero, a virtual stock trading mobile, seems to be doing well. Recently we learned that its 50,000 users have transacted over $5 billion worth of virtual currency over 350,000 trades in the last three months. In other words, $36,700 worth of virtual currency is traded at every minute. Its 50,000 users have so far generated over 250,000 market comments on trades.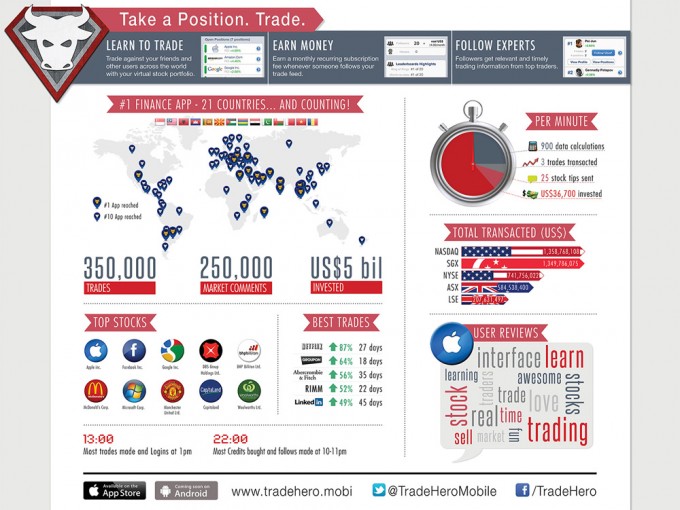 I wrote a very positive review about Tradehero's concept before it was launched (which amusingly attracted some hate comments) and was pretty excited to give it try. Admittedly, I was hooked on it for awhile, but I eventually realized there were limited things to do.
My user feedback
Most users, like myself, bought shares and held them for long term growth, which didn't leave much virtual currency to do more trading. It became that I logged in everyday to check if the shares' value grew, but that itself wasn't a strong enough motivation to log in frequently. After awhile, it started to feel stagnant and I gave up trading. My last trade was probably at least a month ago.
That said, I still believe that concept is good. But apparently some problems weren't fixed quickly enough to retain users like myself. For example, I think hardcore users might really be willing to pay real cash for virtual currency just to keep trading, which I believe is the key drug keeping users coming back. So selling virtual currency is actually fitting as one of its app monetization methods. Thankfully, the option to buy virtual currency was added in recently.
When I shared my thoughts with Gary Gan, Business Development Manager at TradeHero, he told me that the TradeHero team is constantly improving the app based on users' feedback. The option to buy virtual currency is one of the many improvements thus far.
The big win for TradeHero may not be TradeHero itself, which could end up being a sacrificial lamb to perfect its gamification trading concept. This concept can be applied to several models. Football betting, for example, is another approach I believe is likely to work in Asia. The Tradehero team is already planning more apps similar to TradeHero's concept but declined to share what's in the pipeline.
Stay tuned.

Facebook Conversation
comments