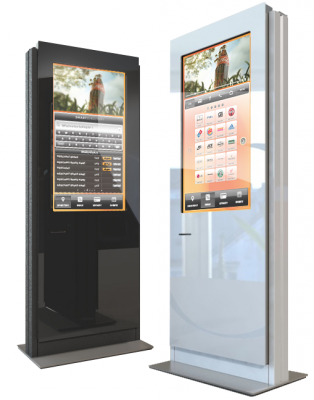 Indonesia's capital city of Jakarta is famous for its malls. There are loads of malls here, and more are yet to come. In that regard, Indonesian venture firm Systec Group recently installed five giant iPhone-like machines called "Touchpoint" (pictured right) in Plaza Indonesia mall. The machines are built "to help customers discover what's exciting around them in the malls."
Touchpoint has four main functions: a search engine for mall customers, step-by-step directions, deals/promotions and event discovery, as well as an integrated customer loyalty platform. Here are more detailed explanations for each function:
1. Google for malls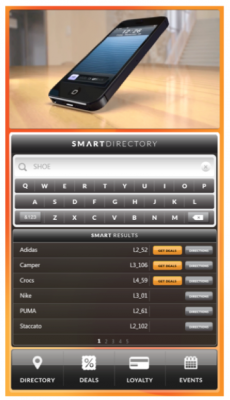 The search engine can help customers search for anything in the mall using merchant names or specific keywords. So if you want to look for "yoga class," Touchpoint can refer you to related merchants inside the mall. Users can already search for merchant names, category, and type of product or service.
It's a bit weird seeing no space bar in the machine's virtual keyboard (pictured right). When I typed "ice" I get a few recommendations related to "ice cream". But when I type in "Icecream" I get no result. Systec Group's CEO Nicko Widjaja says that the software is designed to be "minimalistic and effective", so there is no need for a spacebar. He adds:
That's why we called the feature "Smart Result" on the bottom, as it should get smarter everyday. The purpose of the search is to complete the result before we finish typing the entire word.
2. Detailed directions feature
The step-by-step directions feature is definitely a step up from the current directory displays used in many malls, where users need to look at a map and memorize directions.
With Touchpoint, users can type in the merchant's name. The machine will explain how the user can go there from their current location. Even better, users can print out the detailed directions. The printed directions are quite specific, as it guides users using landmarks, too. Users will be told to go left "after you see Dunkin Donuts on your right."
3. Promotions and events discovery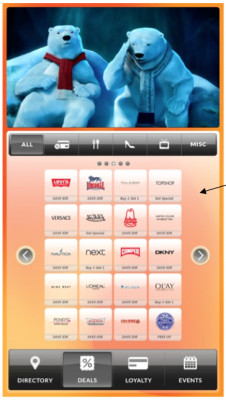 This feature looks similar to what discount startup Uluyu did with its machines last year: users can look for discounts and deals from Touchpoint's partner merchants. The Touchpoint machines at Plaza Indonesia were installed on the condition they showcase deals from Permata Bank, the mall's bank partner for this year. Over 100 Permata Bank deals are displayed, along with about 15 non Permata Bank deals.
To keep things simple for users, Touchpoint only has five categories to look at in the deals section (pictured right): "Permata Bank deals," food and beverage, fashion, electronics, and miscellaneous (pictured above). Widjaja tells us some other machines have too many categories, which can confuse users.
Users can also look for mall events like fireworks and music performances on Touchpoint machines.
4. Customer loyalty machine
Nicko likes to call Touchpoint a "loyalty generating machine." Touchpoint can be integrated with a mall's loyalty program. Members with cards can record all of their spending after every purchase to earn loyalty points. They can then check their activity and point balance using Touchpoint and redeem rewards.
Users can either redeem using the card directly at merchants, or print the reward code first. I think printing a reward code is unnecessary, as users can already use the cards at merchant stores. Nicko gave two reasons: first, it acts as a reminder and to educate customers that they can redeem a reward. Second, it entices users to do something.
According to his research, Indonesians demand and expect something to come out of the machine, and the printed coupon fulfills that expectation. Touchpoint will be installed in various malls in the near future, but each mall card can only be used on Touchpoint machines in that specific mall, as the data is always kept confidential.
Money talk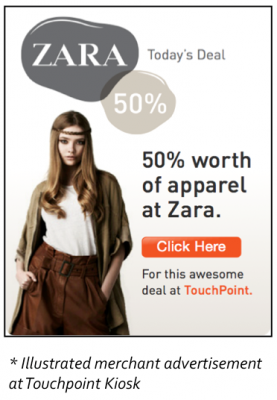 Touchpoint earns money from merchants wanting to collaborate more with the machine's aforementioned features. Individual merchants can advertise their products or services in various ways on Touchpoint machines.
The machine has a specific space for interactive video and banner advertising. People can touch the ads to display the promotional information.
Hardware startups face challenges
There aren't a lot of startups going to the hardware clan, so it's nice to get a better grasp of what challenges hardware startups get to face. Right now, Plaza Indonesia has five Touchpoint machines, with many more ready to be installed at another major malls later this month.
Systec decided to custom-build the machines to fit very specific requirements, so they spend many months in development and design. The current iPhone-like design is the team's third prototype built, so much of its budget goes to R&D and manufacturing.
(Editing by Paul Bischoff)

Facebook Conversation
comments