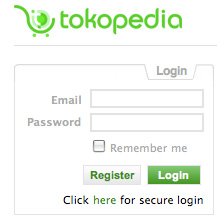 Tokopedia, a leading online-mall in Indonesia with more than 9,000 active shops and 200,000 products listed, today announced its closing of a Series-B investment from CyberAgent Ventures, Inc.
The amount isn't disclosed but my friend, Serkan Toto, got the information from Japanese business daily, The Nikkei, that the deal was sealed at US$700,000 for 10 percent equity; valuing Tokopedia at $7 million.
William Tanuwijaya, CEO of Tokopedia declined to comment on the funding amount. However he did confirm on the 10 percent equity.
"We release approximately 10% share to CyberAgent Ventures, Inc. For the funding nominal and valuation, we have no comment at this moment," said William via email (with a smile).
Prior to this investment, in 2009 Tokopedia received funding from PT Indonusa Dwitama, and in 2010 from East Ventures. Tokopedia is also the first company in Indonesia to be part of CyberAgent Ventures' portfolio.
"We can see the Indonesian market is highly potential that we plan to establish our new office here, so we can aggressively expand our venture investment business." Nobuaki Kitagawa, Director of Overseas Investment from CyberAgent Ventures stated.
In 2009, CyberAgent Ventures put a similar investment into the now-largest online shopping provider in Vietnam, Vatgia.com.
"We're confident that we can maintain our growth-trend in this new round," said William, "We might as well learn from their experiences in the Internet and e-commerce market in Asia."
With the deal sealed, both co-founders of Tokopedia, Leontinus Alpha Edison and William Tanuwijaya, will continue to lead and maintain full operational responsibility of Tokopedia. Representatives from PT Indonusa Dwitama and East Ventures continue to be present on the Board of Directors and Board of Commissioners of Tokopedia.
"As a fast growing startup, we'll use this round funding to scale up our product, technology, service, and the company itself. We're ready to take it to a whole new level," said William when asked on how the fund would be used.
On a last note, congrats to the Tokopedia team, it's another great winning case study for all start-ups in Indonesia.
Also catch: The Story and Strategy behind Tokopedia
Full disclosure: We're currently in talks with East Ventures on a funding round. Details will be released within this week.

Facebook Conversation
comments