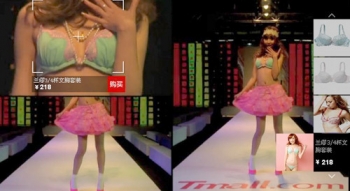 Imagine this situation: An awesome coat catches your eye when you are watching a drama or TV show online. You have no idea which brand it is or where to buy it. But then a link to a shopping and payment webpage appears just beside the coat on your screen? Consumers can enjoy this new video shopping experience during March 6th to 8th on Tmall.com, and also enjoy a special sale for Women's Day.
More than 30 women's clothing brands joined in the debut show of Tmall's video shopping, catering to young consumers and online shoppers. Click here to enjoy the fashion show and browse around for some clothes you like.
By using a dynamic image recognition technique, this video shopping service can associate goods in a video with a matched commodity in Tmall.com, and then give access for browsing or placing an order. If fails to find an exact match, it will offer alternates.
On February 27, an underwear fashion show hosted by Tmall.com gave the public its first glance at how video shopping service functions. You can check it out here.
According to hexun.com, Youku.com started its collaboration with Tmall.com as strategic partners on this new shopping service two years ago in 2009. Data from Taobao.com shows 77 percent of videos with goods descriptions are from Youku.com.
[Via china.com and tech.hexun.com]
Facebook Conversation
comments
Powered by Facebook Comments