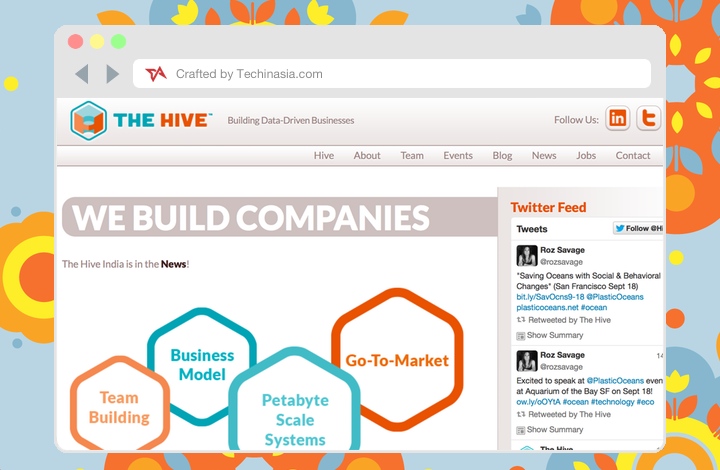 The Hive India, an early stage investor firm and affiliate of California-based The Hive, has rolled out its operations in India last week. While the company is opening offices in Bangalore and Mumbai, one of the key feature that grabbed my attention was its key focus to invest and promote startups and companies in the big data space.
Since big data is the hottest buzzword in the tech industry today, I managed to grab a call with Arihant Patni, one of the two founders and managing directors (along with Amit Patni). Given my interest and curiosity in big data, I quizzed Arihant about why his firm is so keen to invest in companies and startups in the big data space. He replied:
The whole industry is dealing with big data in some or the other way and the power that data provides to businesses is enormous. And it always excites me.
His banking on big data startups and companies certainly makes sense given some recent industry reports.
In fact, NASSCOM (National Association of Software and Services Companies) and CRISL wrote in the Big Data report 2012 that India's big data industry will grow from $200 million in 2012 to an estimated $1 billion in 2015 at a CAGR of more than 83 percent. (See full report in PDF form).
Though the The Hive India is now up and running, Arihant explains that his firm is not specifically looking at the Indian market or startups, but is focused on products and applications. "The big data market is wide and global. It's not about looking at Indian companies for cost advantages but it's about creating valuable products or any application that can leverage big data in certain verticals and how companies can leverage it with return on investment," he said.
Up to $2 million
Arihant's firm will provide funds to entrepreneurs and early-stage startups as well as those companies which have moved past proof-of-concept stage and have started to earn some revenue. The Hive India will provide funds in the range of $200,000 to $2 million. Beside the investment, the firm will take a board seat and work with the entrepreneurs hand in hand./p>
"Through our platform, we aim to help entrepreneurs create sustainable business that incorporate big data by providing them with initial capital, mentoring, technical and business guidance, and access to prospective follow on capital and strategic partners," said Arihant.
As The Hive India is looking to invest so much, I was eager to know what the firm has allocated for every year and the number of startups it wants to invest in. "We have not earmarked any funds so far. But we want to invest in three to five companies every year for the next two years. We are already in the process of closing our first investment," informed Arihant.
In terms of the challenges faced by most investors in India, the Pennsylvania University graduate commented:
Startups in any way is a hard work and taking it to the next level remains a challenge. Beside that, unlike Silicon Valley where things move very fast, [in India] things are moving a bit slow.

But with our connect in Silicon Valley, we will try to push things faster.
Making the grade
While most early-stage investors move out after a few years of investment, The Hive India is looking for long-term investments with good growth. "Our plan is to invest for a longer duration and our investment criteria in companies or startups would be on big idea and demonstration of management skills and scalability," emphasized Arihant.
Several startups and companies have already approached the firm for investment. Arihant pointed out that the selection process and investment decisions take a good amount of time. "Sometimes it might happen in a short duration and sometimes it takes a long time – maybe even a year or so. We engage with them, try to understand the management and other aspects. It depends on the chemistry you have with the company – it's like a marriage."
Another fascinating aspect linked with The Hive India founders is that they are the second generation of Patni family, who have been instrumental in India's IT industry. The Patni family was among the first generation to set up a large-scale tech company in India. In fact, the family founded the renowned outsourcing company Patni Computers, which iGate acquired some years back.
Besides running The Hive India, Arihant is also director and co-founder of Nirvanan Venture Advisors and holds the position of managing director at Patni Financial Advisors.
(Editing by Steven Millward)

Facebook Conversation
comments