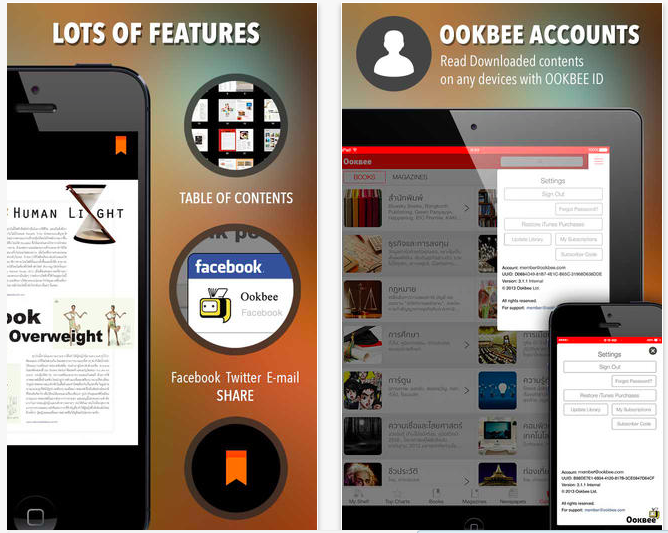 If you follow the Thai tech startup scene, there's no way you've never heard of Ookbee, Thailand's largest e-bookstore. It's held up as one of the country's pioneer startups. According to CEO Moo Natavudh, Ookbee's market share in Thailand is over 90 percent now, and besides Thailand, the company also has presences in Vietnam and Malaysia.
Founded in December 2010, Ookbee has long been a web-based online e-bookstore platform, up until recently. In fact, two weeks ago, Ookbee just launched its own iOS app, marking a big step for the startup. Previously it has worked with two major partners – B2S and AIS – to power their online bookstore apps in Thailand. In addition, later next month, Ookbee will be launching Ookbee Mee, which is an all-you-can-read online magazine subscription service. Think Netflix for magazines. It might extend to books later as well.
Peaceful Coexistence
So the question arises… Is Ookbee competing with its own partners now?
Tech in Asia reached out to Moo and asked him to clarify his company's strategy. Moo explained:
In terms of competition, Ookbee app aims to be a regional store, not only in Thailand. But locally there might be some competition with existing bookstore of ours. However, we think each bookstore has it own strengths anyway. For example, AIS has promotions for its users on its bookstore. B2S is known for its actual stores so it has a pool of loyal customers. Ookbee's app tries to capture the remaining sector in general.
It looks like Ookbee is taking the e-book business into its own hands now, instead of just being a white-label service provider for other brands. Expect fierce competition in the near future, at least in Thailand. It's unlikely that Ookbee's partners will be too happy if they gradually lose their customers to Ookbee.
(Editing by Steven Millward)

Facebook Conversation
comments