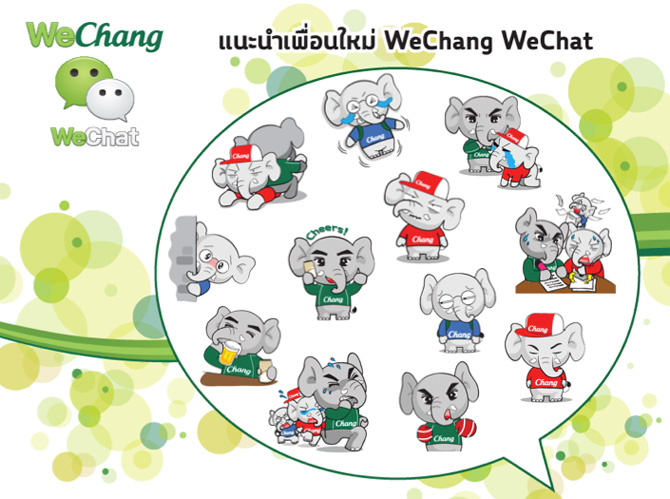 Last week, Chang, the largest beverage producer in Thailand (most famous for its beer) joined Tencent's WeChat with an official account. While most folks think that official accounts (sort of like a brand page on Facebook) are just a way for companies to push messages and communicate with consumers/fans, it is actually more than that.
Chang takes the name "WeChang" on Wechat. Once you follow WeChang within the WeChat messaging app, you will receive a welcome message with simple instructions on how to use WeChang to order home deliveries of its drinking water via WeChat.
To order water refills, reply '2' with the following text: 'waterrefill#customer name#your number'. A customer service representative will confirm the order before delivering the water to your doorstep. Or customers can reply '3' to download a set of cutesy Chang stickers (pictured above).
It's hard not to like such conveniences. In China, the China Merchant's Bank allows its followers to check their bank balance through WeChat. More can be done in future, I think. For example, it will be great to be able to order food home deliveries, pay utility bills, or book restaurant or movie tickets on WeChat while on the move.
If WeChat or any other chat apps can bring more utility functions to users on mobile, it will create yet another compelling reason for people to sign up – even if users download the app just to access those utility features and not to chat with friends.

Facebook Conversation
comments