Ericsson (Thailand) has just released some interesting data from Ericsson ConsumerLab regarding smartphone and tablet usage in Southeast Asia and Oceania. Here's the lowdown on Thailand:
Consumer access to smartphones in the city areas has doubled from 17 percent in 2012 to 36 percent in 2013.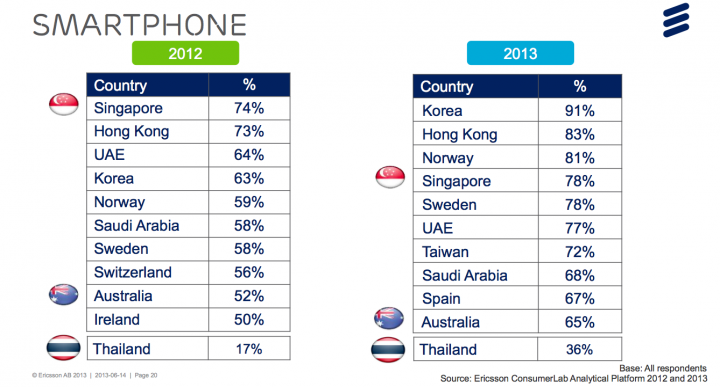 Consumer access to tablets in the city areas has tripled from two percent in 2012 to seven percent in 2013. The increase in smartphone usage also means people have more access to the internet, social network, online chat, and video streaming.
Thai app usage has increased from 40 percent in 2012 to 57 percent in 2013, which puts Thailand at number 23 in that category out of 43 countries Ericsson surveyed.
In Thailand, 44 percent of people use smartphones for SMS, 69 percent for browsing the internet, 57 percent for IMs, 34 percent for emails, 57 percent for app usage, 65 percent for social networking, and 32 percent for watching video clips.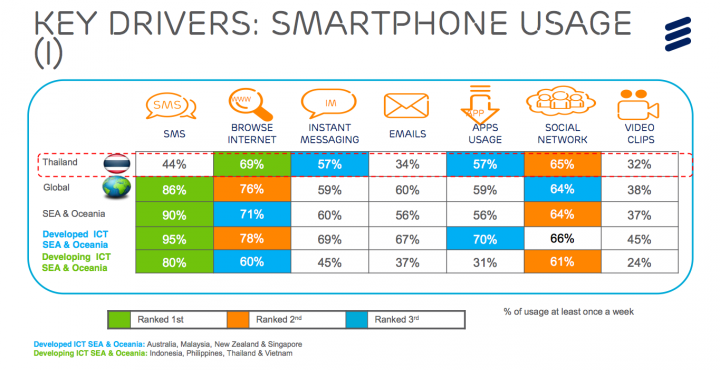 More smartphone users in Thailand are using instant messaging, social networks and apps while SMS usage has declined. Another interesting bit of data from the report is why Thais are downloading apps from app stores, which is something startups should make note of. It's interesting to see that Thais often don't download an app for its content or function, but that marketing is the number one driver behind downloads.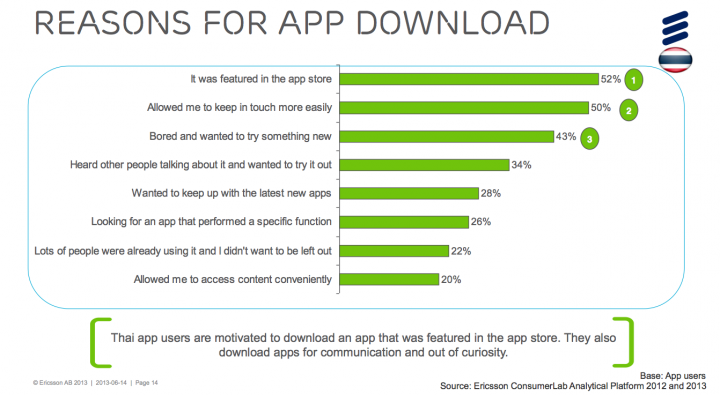 Here's the chart comparing smartphone users' behavior around the world, in Oceana, and in Thailand.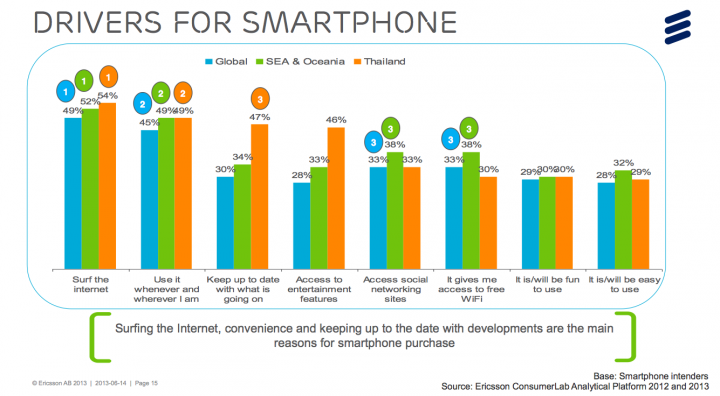 Last, here's an interesting graph showing when people actually use their tablets. Many people use tablets less during working hours, but interestingly Thais use tablets during those hours more than anyone else in the world. In fact, Thais use tablets at work more than they use them while watching TV or using public transportation.

(Editing by Charlie Custer, Steven Millward, and Paul Bischoff)

Facebook Conversation
comments