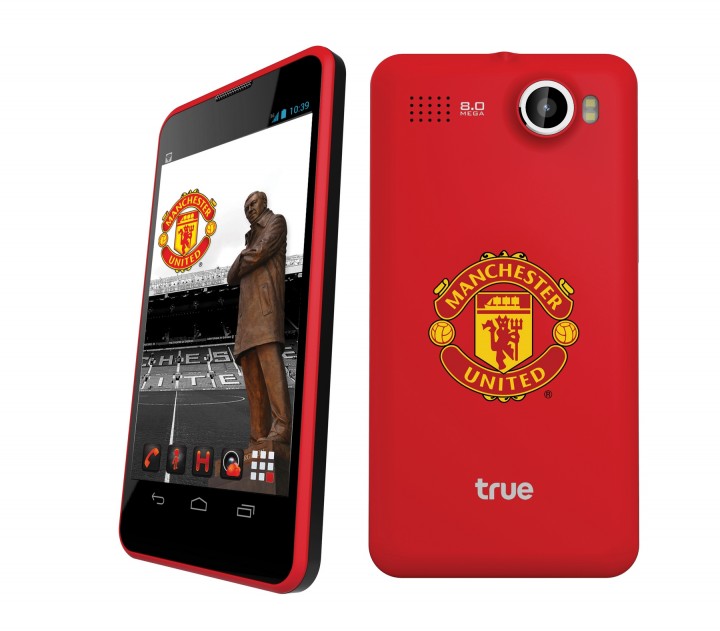 We've talked before about how each of the big three telcos in Thailand has its own branded phones. True Beyond is a phone brand under True Move H, which is a telco company under True Corporation.
Last week, True Beyond launched its Manchester United special edition phone to serve all the MUFC fans in Thailand, of which there are roughly 50,000, according to its Thailand Facebook page. But the number could be even more than that as MUFC has 659 million supporters globally.
The phone comes with 4G LTE/3G/EDGE/GPRS, Android 4.2.2 Jelly Bean and Qualcomm Snapdragon Dual Core 1.5 GHz. But that's not what makes it interesting. The phone is interesting not only because of the tailored Manchester United case, but the special MUFC's exclusive content and apps that are pre-installed in each phone:
MUTV: an app that allows users to watch MUTV for free with match highlights and special interviews from the players.
H Keeper: It's a game application that allows users to be David de Gea Quintana, United's goalkeeper, and practice the finger skill by making sure that they can protect the goal from getting any balls in.
H Match: This app allows users to read critiques from gurus around the world before the match. They can see predictions and guess what the result of a match will be. Real Red Devil fans who guess correctly could also win prizes.
H Runner: It's an app for users to become one of their favorite soccer players. The player will get to kick a ball through many obstacles on the way to end at the Old Trafford stadium.
With a few interesting apps installed, I can imagine a line of Red Devil fans outside of a True Shop waiting to get their hands on this Manchester United special edition phone already.
(Editing by Charlie Custer)

Facebook Conversation
comments