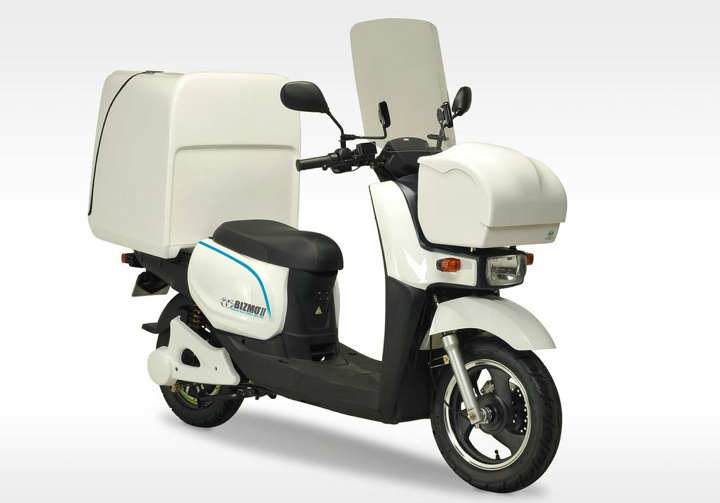 Starting tomorrow, Terra Motors, the Tokyo-based electric vehicle (EV) startup that specializes in eco-friendly scooters and tuk-tuks, will offer a commercial motorcycle with a range of 150 kilometers on a single charge – three times greater than currently existing alternatives, according to the company. The motorcycle, dubbed BIZMO II, can carry a load of up to 30 kilograms (66 pounds) using front- and rear-mounted carrying containers, making it suited to a variety of delivery applications.
"Traditionally, electric motorcycles were considered a mobility solution for short distances due to their lack of battery capacity and power," Toru Tokushige, Terra Motors' founder and CEO, said in a statement. "BIZMO Ⅱ is the world's first electric motorcycle which fully satisfies the needs of commercial use."
Terra Motors also says that BIZMO II has an operating cost that is less than one-tenth of a gas-powered motorcycle. Its in-wheel electric motor has a regenerative function that charges the battery when decelerating. In addition to cutting petrol costs and reducing carbon emissions, the near-silent motor could dramatically reduce sound pollution created by traditional motorcycles, a common nuisance in quiet residential neighborhoods.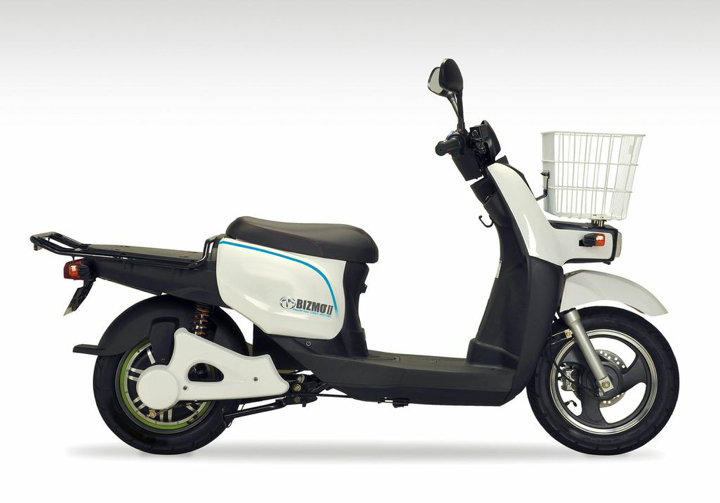 BIZMO II offers three driving modes: high-speed, normal, and energy saving. On high-speed mode, it is capable of speeds up to 55 kilometers per hour (34 miles per hour). Without cargo boxes, it weighs 85 kilograms (187 pounds) and can climb a 14-degree incline (without cargo). The vehicle's frame is steel reinforced to promote rigidity when carrying a full load and its rear cargo deck is positioned low to aid balance.

See: How Japan's Terra Motors wants to plug developing nations into e-bikes


While most electric motorcycles are equipped with 48V20Ah (960Wh) batteries, good for around 40 to 50 kilometers per charge, BIZMO II uses a removable 72V44Ah (3168Wh) power source that more than triples its range in comparison. Terra Motors' head of PR, Tetsuya Ohashi, told Tech in Asia that it has been in development for four years and will cost approximately US$4,000. The retail price will change for markets outside of Japan, Ohashi says, based on individual distributors.

In May, Terra Motors received US$10 million in funding led by Mizuho Capital (which was partially used to develop BIZMO II) and including investment from Fenox VC, Shinsei Bank, SMBC Venture Capital, and Aizawa Securities. While the company has primarily focused on Southeast Asia with previous EVs, BIZMO II will debut exclusively in Japan. Terra Motors, founded in 2010, says it will seek out overseas expansion potential as soon as possible and hopes to move 100,000 units globally by 2015.

(Disclosure: Fenox VC invests in Tech in Asia. Read our ethics page for more information.)

Terra Motors operates overseas affiliates in Vietnam and the Philippines and is considered a poster child for Japan's burgeoning startup ecosystem. Noteworthy investors include Nobuyuki Idei (former president of Sony), Koichiro Tsujino (former president of Google Japan), and Kenji Yamamoto (former president of Apple Japan).

Editing by Steven Millward

Facebook Conversation
comments
Powered by Facebook Comments