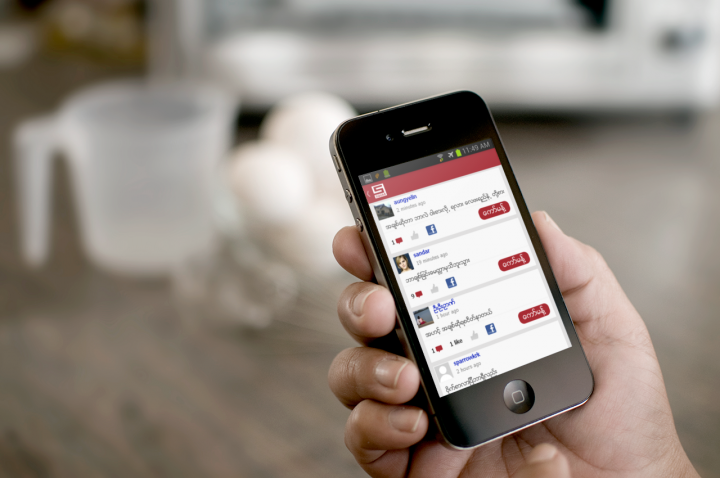 The other day I was having dinner with my friend Hendrik Beck, who works at Squar (pronounced "square"). Squar, which I covered a few months ago, is one of the only significant startups working in the digital space in Myanmar. It's building an interest-based social network. While we were eating, a crisis erupted on his phone. Skype was chirping on his Nexus, and I asked him what was up.
According to our Burmese community managers, some guy in Myanmar is verbally attacking other users (in Burmese) on the Squar platform and we're all chatting trying to figure out what to do about the problem.
Rita Nguyen, the Vietnamese-Canadian founder and CEO at Squar, spent that night communicating with Burmese community managers, Vietnamese developers, and her German technical lead. It's a trilingual team. Rita communicates to the team in English and they communicate to each other in their own languages.
At the end of the day, Squar had to create several protocols to shut down hostile users as well as create foul language filters that would flag cursing on the platform. Of course, all this has to come from Burmese community managers as it's in a language that no one in the development, design, and management teams knows.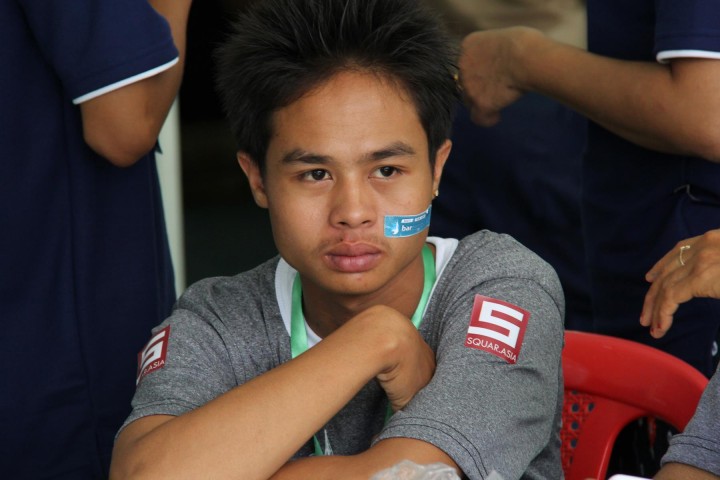 An education in Burmese culture
The interesting thing about this entire affair is that Squar's entire platform is only in Burmese. That means the CEO, developers, and designers have no idea what the users are saying. They have to rely solely on the Burmese community managers they hired on the ground. According to Rita:
The biggest challenge at Squar is building an online community you can't read. We had to train community managers to manage online communities in a country where internet penetration is far below 10 percent.
Thus, in the beginning stages, Rita had her community managers translate everything from users, including feature requests and feedback. Burmese staff used to just assume that Rita understood Burmese cultural nuance, but now they're more revealing in their descriptions of what's going on. Over the course of months, the Burmese staff began to understand what to watch out for. Thus, when Myanonymous started texting, they knew it was all bad.
Language beyond the trolls
In Myanmar, tech is still fresh. At the biggest Barcamp unconference in the world in Yangon, where over 6,000 people gathered together to present about tech, Unicode was the biggest topic. Burmese developers are still focused on basic things like language. This has presented some unique problems to Squar. Rita continues:
When our developers in Vietnam told our guys in Myanmar that the new build was ready, they asked "Okay, so where's the build? We didn't receive it yet." Turns out the latest Android version was sitting on the server. The Burmese guys were waiting for an APK. That's because in Myanmar, Google Play is blocked, everyone has to download an APK.
Huawei phones are also the most popular in Myanmar, with 60 percent of the market. But Huawei phones block notifications in Myanmar. Thus, Squar doesn't support notifications in the same way. It also relies on email notifications as a proxy. Technical barriers like these have shaped the Burmese experience and the subsequent communication in the Squar team.
The cutting edge of the internet in Myanmar
Faced with these unique challenges, Rita's team is in the unique position of shaping how Burmese people react to technology. Currently, the platform has 17 main categories where people can post, including news, relationships, and contests. But the Burmese people are reacting in novel ways to the categories.
We have a feedback section for our users to feedback on how we can improve the platform and feature requests. And we were quickly finding, via our community managers, that users were actually using the feedback function to ask other users on dates.
In the next few months, Squar will be rolling out an entire relationships section for this reason. The team also found that Burmese users loved to post poetry, clearly a result of their rich literary culture. Consequently, Squar will add a poetry community.
Burmese users also resisted having unique anonymous usernames. The users instead demanded that they have their real names displayed. With internet penetration still lower than one percent, the internet in Myanmar must feel like a small place. And without any major censorship controversies yet, there isn't a big incentive for people to remain anonymous, unlike China and Vietnam. Not only do Burmese users want to use their real names, they also want to add private information like the school they attended and their company.
Not only is Squar adapting to users, users are also adapting to the Squar platform. One such user started out posting nude pics on the platform:
In the beginning, we had this one user who we had to warn and block several times because he kept posting nude pics on Squar. Over time, he slowly realized what he could actually do on the platform. Eventually, he wised up. He's become a superuser, meaning he contributes a lot of content to the platform and has certain user privileges. So we've been teaching new users how to react and use the internet.
You can download the Android version of Squar here, but like me, and the rest of the non-Burmese team, you probably won't be able to understand it. The iOS version is coming soon.
(Editing by Steven Millward and Josh Horwitz)

Facebook Conversation
comments