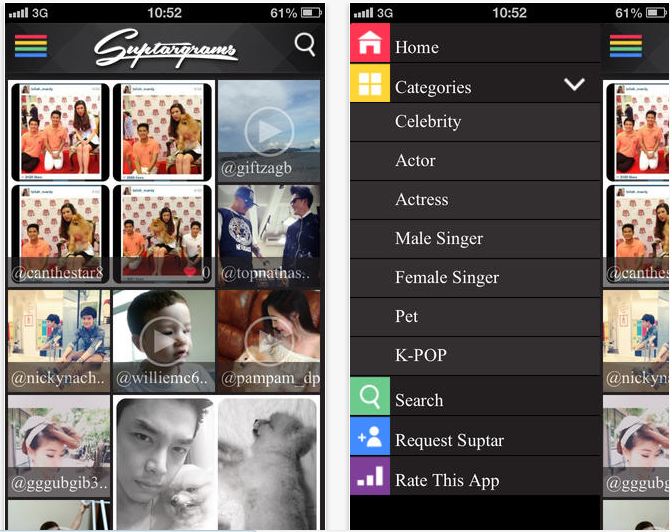 There's no shame in stalking. We all have done it on Facebook with our exes, our friends, or old classmates. Don't be shy, just admit it! But what about on Instagram? I, for one, love looking at celebrity pictures. It makes me feel connected, and I'm sure I'm not the only one who feels that way.
For those of us who are proud stalkers, Sanook just made our online habits a little easier. The Thai largest web portal recently launched Suptargrams, an app which, as its name implies ("suptar" is an easy jokingly way to say "superstar" in Thai), aggregates celebrities' Instagram accounts into one place.
Users can follow up 500 celebrities then the app will feed the latest photos of these celebrities right to users' hands. These celebrities are also divided into categories such as "K-Pop," "Actor," "Actress," etc. The app focuses heavily on Thai public figures at the moment.
Considering how much Thais love Instagram, Suptargrams indeed has potential. The top two most-Instagrammed places in the world for 2012 are in Bangkok.
Personally, I think it's great to have an app specifically for celebrities apart from Instagram. Not that I have any shame in wanting to know what superstars are up to, but it'd be great to separate it out from my personal Instagram so my followers don't know which celebrities I stalk. That way I get at least a little privacy as I indulge in this not-so-guilty pleasure.
While Suptargrams seems poised for a warm welcome in Thailand, its name might prove troublesome. Last we checked, Instagram doesn't allow third-party apps using the phrases "Insta" or "Gram" as part of the name.
Suptargrams is available on both iOS and Android.
(Editing by Josh Horwitz)

Facebook Conversation
comments