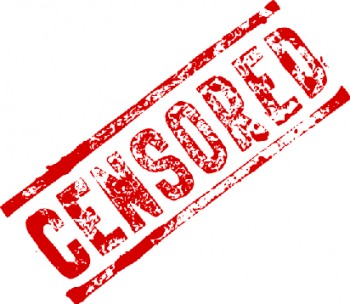 Everyone knows that China's internet is heavily censored. But although many of us have anecdotal experience with censorship and theories about how it works, true academic studies on the topic are few and far between. I was quite pleased, then, to discover that some folks from Harvard have conducted one of the first and best randomized experimental studies on Chinese web censorship to date.
The study, which was two-pronged, posted a variety of messages on Chinese social media sites and then tracked them to see what was censored and when in the hopes of finding patterns. Then, to further understand the country's censorship mechanisms, the researchers set up their own social media site in China so that they could speak with customer service reps and get firsthand experience using the tools that are available to Chinese websites for censoring discussion.
The full study is well worth a read, but the most interesting finding is probably that China is far more concerned with posts about collective action (i.e., calls to protest) than it is about criticism of the government. I spoke with Margaret Roberts, one of the study's co-authors and a Harvard Ph.D. candidate, who told me that this even applies to pro-government collective action posts, and that the team did not find a difference in the rate at which pro- and anti-government collective action posts were censored:
"Initially I was very surprised that critical posts weren't being targeted. But in retrospect this makes perfect sense — the government wants to encourage criticism in order to understand how governance could be better."
Freedom to censor
The study also found that Chinese web companies have a greater degree of freedom and choice in terms of how they censor their sites than many outsiders might suspect. The researchers found a variety of tools and methods for censoring comments and blocking accounts in use. As one might expect, smaller private sites tended to be lenient than larger government-owned sites, with the latter being far more likely to review posts before they were published. But interestingly, the study points out several potential upsides to giving website owners a lot of leeway in terms of what and how they censor. For one thing, it promotes innovation and the development of new approaches to censorship. It also creates a degree of uncertainty about what, exactly, has to be censored, and this can help the government maintain control because, as the study puts it, it may be "easier to keep people away from a fuzzy line than a clearly drawn one."
Still, while it may not be clear how websites are meant to censor, the study does prove that the government is less concerned with online criticism than many might suspect. Says Margaret Roberts:
The system clearly allows detailed discussion of the state, its leaders, and their policies. Having healthy disagreement about these issues occurs in many democratic countries, too, often to good effect. This is not a completely free discussion, of course, but it is valuable and seems to be allowed if not encouraged.
Check out the full study here (PDF) if you're interested in all the details.

Facebook Conversation
comments