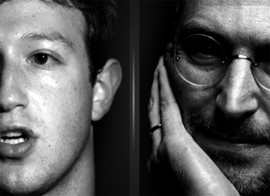 Steve Job or Mark Zuckerberg? Read on before taking our one-question poll.
TIME named Mark Zuckerberg as the Person of the Year 2010. The magazine explained, "For connecting more than half a billion people and mapping the social relations among them; for creating a new system of exchanging information; and for changing how we all live our lives, Mark Elliot Zuckerberg is TIME's 2010 Person of the Year."
On the other hand, the Financial Times gave the honor to Steve Jobs.
"When Steven Paul Jobs first hit the headlines, he was younger even than Mark Zuckerberg is now. Long before it was cool to be a nerd, his formative role in popularising the personal computer, and Apple's initial public offering on Wall Street – which came when Mr Jobs was still only 25 – made him the tech industry's first rock star."
Let us know your choice:
[Image courtesy of Venturebeat]
Have Your Say!