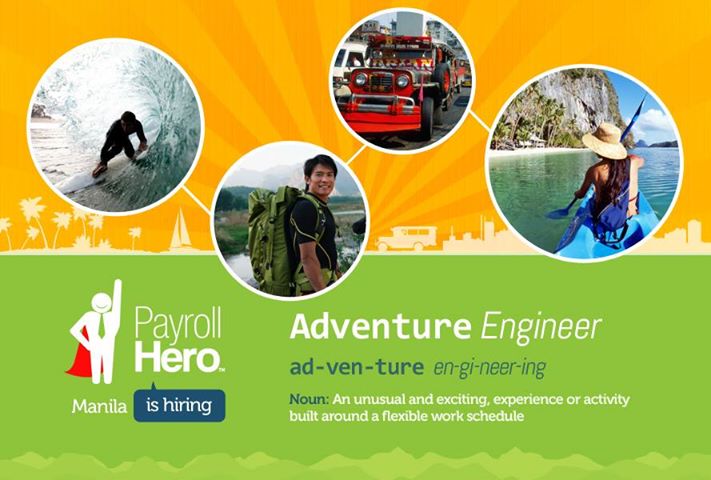 We first met the Philippine and Canada-based startup PayrollHero at our Startup Arena Jakarta last year. PayrollHero, which gives businesses tools to optimize work productivity, is already expanding across Southeast Asia. Now the startup has revealed in a new video (see below) that the source of the success is its team of happy and productive employees it calls the "adventure engineers".
In the scrum
Finding skilled engineers is not an easy task in Southeast Asia, and PayrollHero admits it has experienced that dilemma. This is where the idea of adventure engineering was born. Its engineers work full-time but on a flexible work schedule, giving them free time to pursue their interests – or if they're workers from overseas, time to explore and travel Southeast Asia. Stephen Jagger, co-founder of PayrollHero says the team follows a scrum methodology, a framework used by software developers in measuring productivity.
In this methodology, 'sprint goals' are given by the scrum master, and the team members are to determine how to complete these goals. It synonymous to a 'work hard, play hard' environment.
The adventure engineers can freely do whatever they like as long as all their tasks for the day are completed. It's the company's way to motivate its employees to start tasks early, and leave the rest of the day for leisure time.
Travel time
PayrollHero's adventure engineers are either in their Manila office in the Philippines, or Whistler office in Canada. Its current eight members come from different parts of the globe like France, India, Australia, England, and more. Mike Stephenson, CEO of PayrollHero, says through its blog that "each person brings their own unique brand of knowledge, experience and wisdom from their respective corner of the globe."
They also do team building exercises. Last year the team shared its wacky experiences in Saigon, Vietnam, which can also be seen in the video below.
Stephen says that since they started this practice, "the team is energized, works hard, is in better shape physically." This methodology is somewhat similar to Google's company culture, but it remains to be seen if it translates into workers making better products at startups. Time will tell. To give you a better idea of how things go at PayrollHero, here's the video from them:
(Editing by: Steven Millward and Anh-Minh Do)

Facebook Conversation
comments