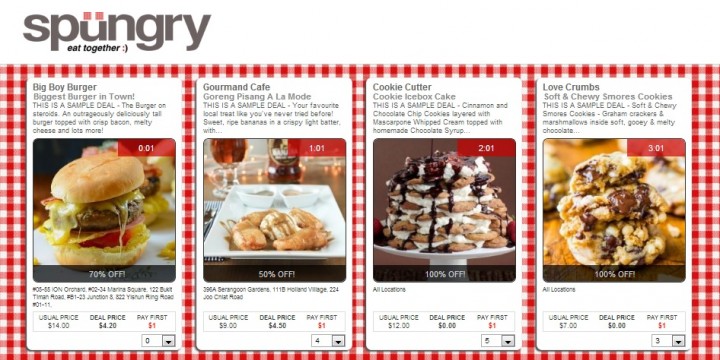 While Singapore has seen its share of group buying startups in the past few years, the country will be seeing another one popping up next month. Called Spungry, the startup focuses on only food and beverages deals. But besides that, is it any different than the other 12 notable group buying sites 1 still operating in Singapore today? Co-founder Hiroyuki Kiga says yes.
Merchants can post any food and drinks deals they want to offer on the site themselves. Spungry will only take S$1 out of each deal, and buyers can pay the rest of it directly when dining at the restaurants.
Each deal will only be shown for 10 minutes, with a 140-character limit explanation for each of them. And if the coupons aren't sold out in that time frame, the deal will get recycled back until all coupons are sold out. So far there are about 800 merchants signed up. Spungry is set to be launched next month, and until then you can access its beta site here.
4 problems in group buying industry
Kiga says that they are looking to solve four problems in the group buying industry:
First is better deals for diners. At the moment, most group buying sites receive a lot of revenue from each deal, some of them even get up to 50 percent. Spungry's taking a fixed amount of $1, which means that merchants now have more room to offer better deals to users.
Second is merchants get to earn money directly without hassles. Kiga argues that there's an unnoticed deal in group buying contracts which says "payment upon redemption". This means that if $100,000 worth of deals were sold, merchants don't usually get the full amount of the share because not every buyer redeems the deal.
This happens because of various reasons like not having time or simply forgetting all about it. Kiga explains further:
Deal sites explain they need to reserve it for refunds. But, refunds are known to be hard to get and even if the refunds are never claimed, the unclaimed amount still isn't split with merchants.
Spungry doesn't have such a clause. It takes the aforementioned dollar and that's it. The startup doesn't work as an escrow service so users can pay the rest of the amount directly to the merchants. There's no more waiting time for merchants either to get their share of the deal.

Third is less remorse for buyers. There's an easy refund service on Spungry. Users have up to 100 days to get refunds, and to do that they need only click a button. The $1 refund will be wired back into their online account and it can be used for other deals instead. So this should be good news for diners who often forget about their online deal purchases.
Fourth is the aforementioned online marketplace platform. Merchants can start posting their deals immediately on Spungry's self-service page. So Kiga says that merchants won't need to "negotiate with salespeople, wait for approval, and then queue to be posted, and there's also no limit to the number of deals they can create."
Avenue for growth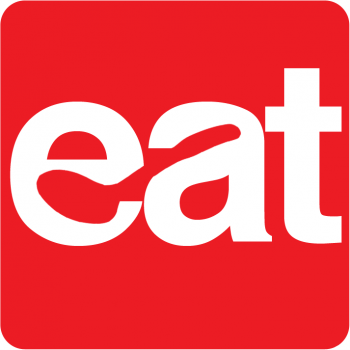 Kiga argues that while Groupon needed a huge amount of money to grow, things should be more scalable for Spungry. Back in September 2011, Groupon had $244 million in cash, as well as a total debt of $506 million with $465 million of it being owed to merchants. Kiga explains that this "implied at the point they went public, they needed to use merchants' money to fund and expand their expensive operations."
Kiga argues that Spungry has no debt situation, and that its operations mainly require marketing funds.
The platform can also adhere to expansion plans as it can be used from outside Singapore. The team has designed the system to accept deals from other countries, and when the system detects 60 merchants creating deals from one territory, then Spungry will become available in that place and diners can start buying.
According to All Deals Leak, Singapore's deal market generated almost S$130 million in 2012 alone. There's definitely huge money to be found inside the Lion City.
Eating together with potential mates
Kiga himself is working at GREE Ventures and has made some investment analysis and decisions. He and five other partners are very enthusiastic to disrupt the traditional group buying industry.
Interestingly, Kiga mentions an upcoming plan which syncs nicely with the team's tagline of "eat together". It is a social networking feature whereby users can buy other users' a deal while sending a short message. "If she accepts, it's a great way to reconnect in real life. If she doesn't, it's just $1 spent."
The business model looks solid so far, but execution will always be the key here.
(Editing by Steven Millward)
---
All data from All Deals Leak is cited by Kiga.

Facebook Conversation
comments