This article is part of our coverage of TGS 2013. Be sure to keep an eye out for our new gaming-focused site, Games in Asia, coming soon.
I saw a lot of indie games at TGS, but Space Qube might be the one that impressed me the most. The game, which was built by the Taiwan-based indie dev team Qubit Games, launched just yesterday (you can download it here for iOS). When I talked to designer and programmer Owen Wu, he said the team hadn't had time to check its download stats yet, but I wouldn't be surprised to hear the game is doing quite well.
Space Qube's gameplay is pretty straightforward shoot 'em up fare: you control a ship as you fly towards enemies, and your goal is to blast them or dodge them while collecting power-ups that give you cool boosts like a few seconds of bullet-time or an upgrade to the auto-cannon that's on the front of your ship constantly firing lasers. At the end of each level, there's a "boss" that will take some extra blasting to take down. If that sounds familiar, it is — Space Qube has a cool, 3D-but-still-pixellated look going for it, but beyond that, it's pretty well-worn territory.
What more than makes up for that, though, is the robust creation tool that allows users to build their own 3D ship models from scratch. In the game, you collect blocks from the enemy ships you destroy, and you can use these to build your own ship models. It's not just an aesthetic level of customization either; the more blocks you use, the heavier the armor in your ship, so you can customize the difficulty to some extent by how you build your ship. Here's a demo of the in-game editor in action:
But designing your own ship isn't just for in-game use either; the team at Qubit Games has made an arrangement with a 3D printing company that allows users to select a size and order a 3D-printed model of the ships they've designed in-game. And since the in-game "ships" can look like anything, there's a huge variety of things you can design and buy using the game's 3D printing options. Below are a few of the models they had on hand at TGS, and as you can see, the only limit in terms of what you can design is your imagination.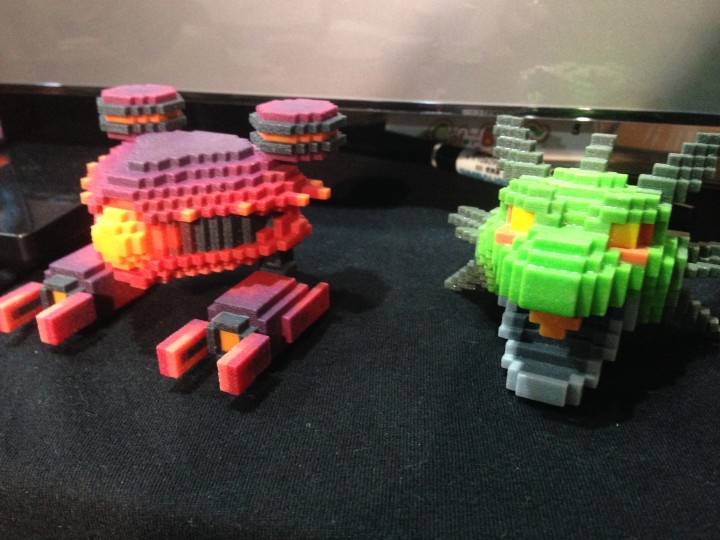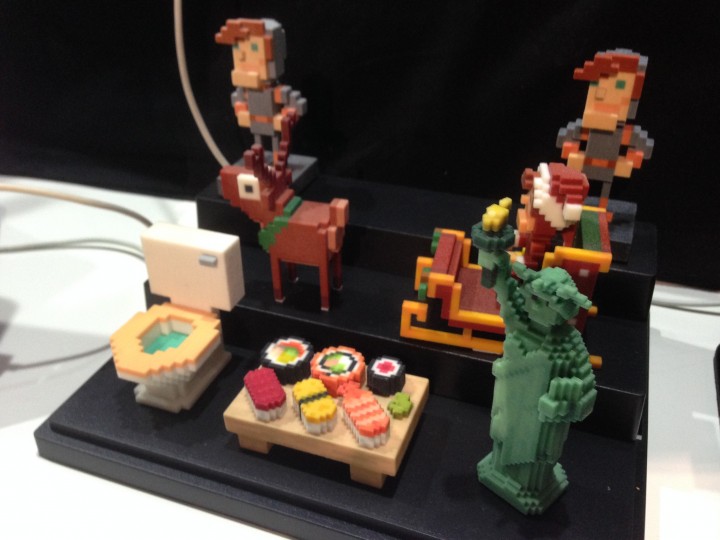 I picked up a few of these things and they feel quite solid and hefty. Given the sharp-ish edges, you wouldn't want to be throwing them around, but I got the impression that if you did throw one it probably wouldn't break.
As a huge fan of games that allow me to create things within the game world, I hope that Space Qube starts a trend for Asian mobile gaming companies. I want to be able to build more, customize more, and design more. And hey, if a game wants to also let me buy 3D-printed models of my creations, that's just the icing on the cake!

Facebook Conversation
comments