Skimbl is a Euro-Chinese start-up, launched just this summer, that's a sort of contextualised, reviews- and events-oriented search engine. It's run out of Shanghai, and for the moment, is focused only on this metropolis. Located at Skimbl.com, it curates and aggregates real-time feeds from over one hundred relevant blogs and websites, with an emphasis on reviews, deals, and being useful to the city's urbanites.
It pulls in pictures from, for example, daily deals site Dianping, and events from local lifestyle site City Weekend. Currently, the site is in English only, and the team is being tight-lipped about a possible Chinese localization. Nonetheless, Skimbl has iPhone and Android apps underway, and an API is in the works too.
Why that name? According to one of its co-founders, it's a shot at making a word that can be made into a generic verb, as has happened with the phrase "to google" – and so the start-up likes to think of people skimbling for local-area info. Also, so I'm told, it's a kind of acronym of 'skim Based on Location,' which is its founding principle.
To discover more, Penn-Olson chatted with Skimbl's co-founder and marketing director, Louis (pictured right), who's a 30-year old French guy now based in Shanghai:
---
1. Why did you launch Skimbl?
---
After living in Shanghai for a while, we got used to browsing several local websites and blogs to see what's new and what's happening in the city. Sometimes it took an hour to find what we were looking for. At this point, we decided – with some friends – to develop an aggregator that gathers information from hundreds of local websites and compiles them on to one platform. And so the Skimbl concept was created.
---
2. Skimbl is run out of China and Europe. How big is your team? And why did you set-up like this?
---
Nowadays, Skimbl is only operated from Shanghai. One of our colleagues used to work from Europe but he recently joined us in Shanghai a few months ago. As with nearly every start-up, we are a small team of four people working full-time on it. One great advantage that we have is that we are a group of friends from different cultural backgrounds, with different competencies, working in the same field that we all love: the Internet.

We decided to work from one location for one reason: It is more important to gather an 'A-Team' with a synergy of skills and the same state of mind, than working from different locations. We keep looking for talented and creative people who are able to add their competencies to Skimbl.
---
3. Do you have funding or backing? If not, are you seeking?
---
Before launching Skimbl, we'd been working on the development of the project for one year. After three months of development we had the opportunity to receive seed investment. This private investment – plus some of our personal funds – allowed us to finalize the first version of the website. At the moment, even though we have between 5 to 8 percent growth per day in terms of our user-base, still we are looking for investment and sponsors to sustain our growth. We have three major aims: one is to improve and enlarge our technology, second is to increase our target market, and third is to expand about our geographical coverage.
---
4. What is your start-up's business model?
---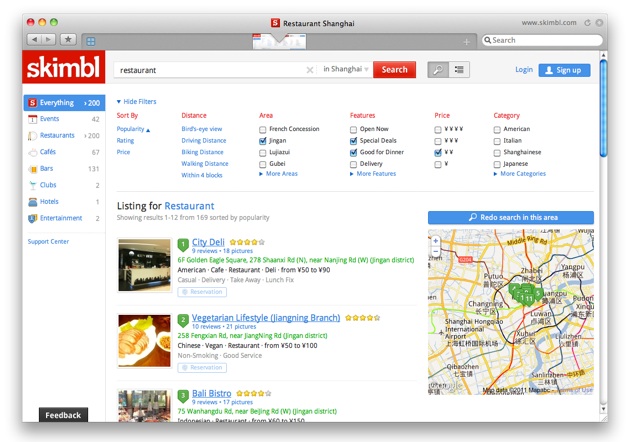 Our primary service is a cost-per-click and/or cost-per-lead model. Besides integrated content that is free for the providers, we also integrate services such as our restaurant reservation service, called 'dining secretary.' Our visitors can access all information to help their decision to visit to this venue. If they are interested, they can make an online reservation. It is a relevant service for our users and a pertinent lead for our advertisers. We plan to have those type of features adapted for every section of our website.

The second service that we will offer soon is the top placement ad product for venues. During our opening month, August this year, we reached over 22,000 queries on our search engine. So the idea is to provide an affordable package for venues to be set as the top listings result for specific queries, and even on potential competitors' detail pages. Since our search is based on category, location and time, we offer a powerful tool for venues to target specific users.

Finally, the third service focuses on design, web-development and management of a venue's website. [It includes] a management interface where a venue's owner can upload its events, coupons, pictures, and other content to their own website, Skimbl page, or Skimbl's website partners. Plus we are implementing a feature to let owners keep track on latest reviews their venues hitting the web, so they can respond to them in timely manner.
---
5. What can Skimbl, with its curated search, do better for local searches than Google, Bing or Baidu?
---
Even though our technology is scalable for global expansion, we are operating locally and we are moderating and filtering our data according to local needs. 85 percent of our data is processed automatically; however, our team is double-checking all that information to make sure it's 100 percent accurate. We are working hard on improving our technology of extracting data from free text, to achieve 95 percent of data extraction automatically.
---
6. What other local integration tweaks will you have?
---
We are currently developing a local deals aggregator. We are also working on an API for third-party websites and blogs that prefer to rely on Skimbl's database than to spend too much time on managing their own. It is an open source API that includes our listings, local search engine, and other cool features. Finally, we are preparing a Skimbl app for iPhone and Android.

Beside those major developments, we are releasing one to three updates everyday on our website to improve our visitors' experience. We have some other sections of the website that should be released by the end of 2011, so stay tuned.

Facebook Conversation
comments