SixReps is an Indonesia-based social network for fitness enthusiasts. Founded by Sanny Gaddafi and Denny Santoso, the start-up aims to be the Facebook for anyone looking to keep fit.
If you're wondering, the name SixReps stands for "Six Repetition". The name was chosen because people who do weight training use the term six rep (or eight rep) a lot.
SixReps has an extremely user-friendly interface that spurs social activities within the site. One of the features allows users to input their body statistics and upload their progress picture. Since everyone in the network is enthusiastic about fitness, it is a norm to showcase your body. What's more, SixReps's blog feature includes user-generated articles on fitness tips and opinions; a perfect place for fitness junkies to comment, share and learn. The fitness social network also has videos, events and a list of workouts for fitness lovers to indulge in.
Despite in its early stage, I'm witnessing a lot of activities within the community. Co-founder of SixReps, Denny Santoso told Penn Olson that the fitness social network has attracted "8,300 registered members within the last 3 months".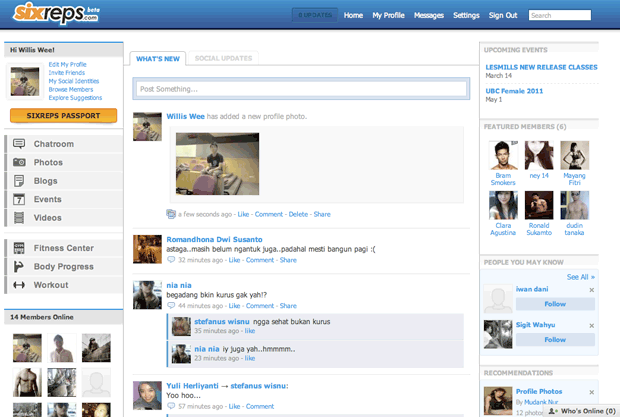 SixReps wasn't founded just to tap into the social media space. It was also founded because of passion as Co-founder, Santoso, had previously written 2 diet books and have wide connections within the fitness community in Indonesia.
"I feel that Indonesia's fitness industry is still very young. Fitness itself has been growing very fast in the last decade but the spreading of information and knowledge is somehow still limited. As a person who has an interest in social media, I saw the opportunity to create a community just for this market," he explained when asked on what inspired him to start SixReps.
In fact, Santoso already had this idea back in 2006. Unfortunately, his first launch wasn't successful because the timing wasn't right.
"People don't really know social network at that time. Only Friendster in Indonesia was known back then. But now, the market has matured enough. So I started SixReps and it seems that people are enjoying it a lot," said Santoso.
That's an important lesson learned from SixReps. An idea has to go hand-in-hand with timing and trend. As more Indonesians get connected on the Internet, we can expect more web-based start-ups like SixReps to grow as well. SixReps fills up a gap in the fitness industry by helping people with the same interest to stay connected and share related information.
"People can find friends with the same interest and can also support their friends' progress in getting their ideal body weight. In the fitness community, it is essential to encourage friends to push their limit and achieve their best. SixReps offers a platform for fitness users to connect, motivate and also help fitness knowledge spread like wildfire," Santoso added.

Facebook Conversation
comments