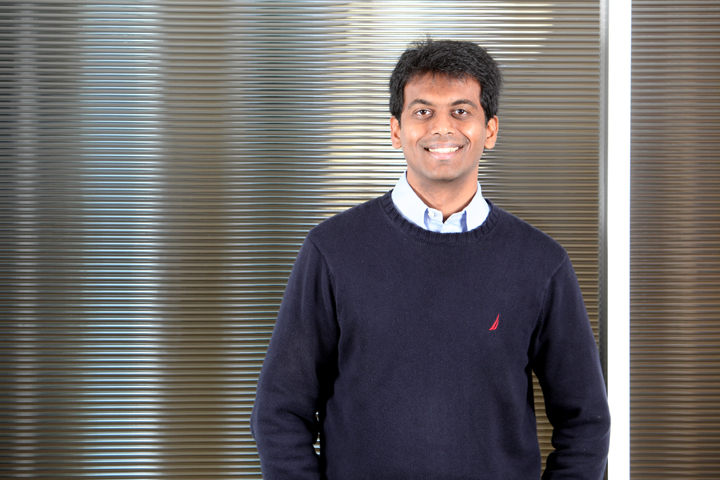 As an uber-geek who was involved in designing some of the world's largest supercomputers for Sun Microsystems, Deepak Jeevan Kumar was seemingly on a path towards joining or starting a tech company.
But as circumstances would have it, he ended up in the venture capital world, becoming a principal at General Catalyst Partners.
Raised in India by a family of doctors, Deepak moved to Singapore at the age of 17 as he wanted to explore the world. He spent a decade in the country, became an NUS Computer Engineering undergrad, and did his Master's in Computer Science with the Singapore-MIT Alliance. He is now a Singapore citizen.
After his stint at Sun in Singapore, his wanderlust soon took him to the United States, where he finished an MBA at Yale University and headed to Boston hoping to join a startup. He met with venture capitalists with the intent of finding out which startups were good.
It turned out the VCs found a kindred spirit.
"They came back to me, told me that they liked the way I know a lot of startups under the radar," says Deepak, "they said, 'why don't you do an internship with us?'"
While he started out in Boston, Deepak soon moved to Palo Alto in 2011 to help General Catalyst build up the firm's Silicon Valley enterprise practice.
In line with his interests, Deepak focuses mainly on cloud computing, cybersecurity, SaaS, and big data. Investments he is involved in include Altiscale, a Hadoop-as-a-service launched by ex-Yahoo CTO Raymie Stata, DataGravity, a business intelligence startup, and Push Computing, a platform for mobile user experiences.
Being a venture capitalist is a way for him to stay intellectually stimulated. One thing he's learned working at Sun is that he cannot focus on one thing for too long. "I get excited by diversity. I'd probably make a bad entrepreneur," he says.
His job gives him access to different problems, verticals, and founders. That enables him to engage in relationship and ecosystem building by connecting trends, people, and companies together.
"I want to be the dumbest person in the room," he says.
More interest in Southeast Asia
Since moving to Silicon Valley, Deepak has started seeing investors show more interest in Southeast Asia. While Singapore-based startup Viki made headlines with its acquisition by Rakuten, a number of other startups from Singapore are also leaving an impression.
Startup accelerator Y Combinator has accepted its first Singapore-based teams Semantics3 and Padlet, while Nitrous, which moved to Silicon Valley recently, has received $1 million in investments from Draper Associates, CrunchFund, 500 Startups, and more.
Deepak believes Southeast Asia can potentially excel in two areas: e-commerce and cloud computing. He says:
Southeast Asia is pretty well-connected to the Internet. The delivery infrastructure for e-commerce is pretty good as well.
While some might argue that delivery services in the region are not as e-commerce friendly as in the West, Deepak counters that the situation in Southeast Asia is still better than in China and India: at least there's a guarantee that the delivery will be made.
Cloud computing is interesting because the Singapore government has been successful in drawing big technology companies to set up shop in the country. Deepak attributes this to a combination of factors: reliable electrical supply, proximity to customers in the region, and a good talent pool.
"If the government starts creating specific programs to attract cloud service providers like Rackspace here, startups can come in and provide services to these companies," he says.
That is how Singapore can withstand competition from big countries like China and India. Unlike manufacturing, data center operations need only a small set of highly skilled workers. He believes there's a low chance these jobs will get outsourced.
How to fundraise in Silicon Valley if you're from elsewhere
With interest in Southeast Asia rising, startups in the region might want to look at Silicon Valley as a possible place to raise money.
The easiest way to do so, says Deepak, is to get accepted into a reputable accelerator, where startups will meet top investors and advisors.
Founders can also play the nationality card: a number of venture capitalists in the Valley that are from Singapore and would be open to spending some time with companies that reach out to them. He says:
Be much more confident in what you say. Market yourself much better. Learn to talk confidently about your product in front of accomplished people, and do your homework.
Entrepreneurs should understand the trends that investors are interested in. While there's a lot of buzz surrounding consumer hardware and quantified self startups, a lot of money is being poured into cloud computing, SaaS, marketing, mobile enterprise, and enterprise security companies.
Deepak believes that not enough funding is sunk into data analysis and insights, as well as data aggregation for hardware startups, which would enable them to process data at lower cost to generate actionable insights. He adds:
Every hardware startup is now trying to build their own infrastructure. It shouldn't be this way.
In the Valley, personal and company brand building is important to raise pre-series A funding. Being active on Hacker News helps, since investors do pay attention to startups that have appeared on the front page of the site since it signals strong interest from the developer community.
"For developer-focused startups, they often get more leads than being TechCrunched if they get on top of Hacker News," he says.
(Photo credit: General Catalyst Partners)
(Editing by Paul Bischoff and Steven Millward)

Facebook Conversation
comments