I've seen more restaurant review and discovery apps come out of Southeast Asia than I care to count, but this new offering from Singapore seems to have laid the groundwork for something big, at least on a local scale. Picky's reach is what you would expect to see from a well-established staple rather than a startup:
Over 10,000 restaurants in Singapore
Two million Instagram images, 50,000 Foursquare photos and reviews
Special offers from Amex, Citibank, Maybank, and ANZ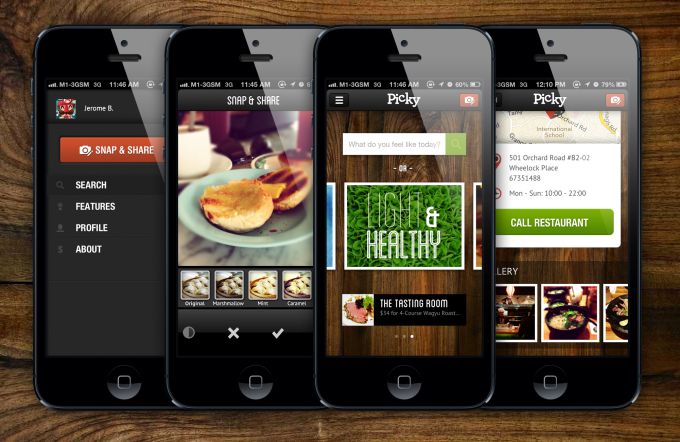 Picky aims to make personalized recommendations based on a user's individual taste and preferences. The more you use it, the better the recommendations get. In addition to all those Instagram photos, the iOS app also features a "snap and share" function with eight different filters.
The app is taking on HungryGoWhere and Burpple in Singapore, as well as Japan's Snapdish and more traditional food portals. It's backed by "six-figure funding from private investors."
Picky was incorporated in October 2012 by serial entrepreneur Lee Ken Ming, the founder of PocketDeals. PocketDeals makes one of Singapore's top apps, Popcorn, that can be used to search, preview, and book movie tickets. It has over 800,000 downloads. He also founded daily deals site SGDeal in 2011. He says:
Despite being surrounded by great food in Singapore, we are often stuck on where to eat when it comes to lunch or dinner. None of the many dining websites and apps out there really worked well in helping us make these difficult daily decisions. This was the inspiration behind Picky.
Picky is available on the Apple App Store. An Android version is scheduled for December.
(Editing by Terence Lee, Steven Millward, and Josh Horwitz)

Facebook Conversation
comments