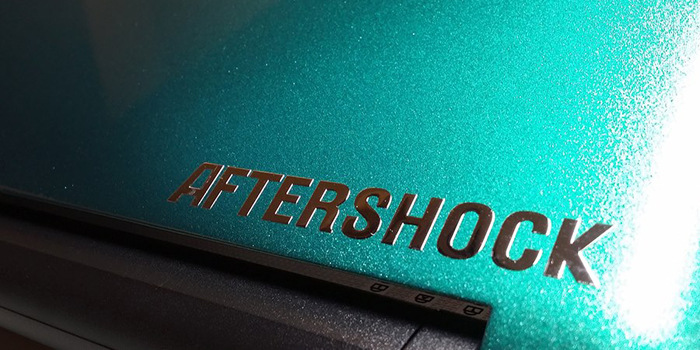 Stepping into Aftershock PC's showroom, I'm greeted by the team's newly adopted kitten Moonfang sleeping on an abandoned laptop. While I ooh and aah over the cat, who fulfills her customer service duties by obliging cuddles from complete strangers, the founders and owners of Aftershock PC, 29 year-old Marcus and Joe Wee, pry themselves away from work to talk to me.
It's not the first time we've chatted with them, but since that time business has boomed for the local hardware startup. Apart from being featured countless times in local media, Aftershock PC's machines have also won awards from Digital Life and Hardware Zone. They get them "every few months," according to Joe.
These days, their Serangoon Road showroom crawls with customers. Once a LAN gaming setup back when it first opened its doors, the shophouse unit has since turned into a service centre. The company has grown to support a tech team, who help build the custom machines.
It's not just their hardware that pulls in the crowds, though. "It's all about what the users want, not what we want them to have," Marcus explained. The level of customization offered by Aftershock PC is astounding, especially in local markets that have only ever known about off-the-shelf brands.
They don't just offer a variety of configurations. Aftershock PC allows for full customization of your laptop-to-be. You can get the Aftershock-recommended specs; as gamers and pioneers of customizable laptops in Singapore, Marcus and Joe really know their stuff. But the fun really is in the details. Customers have control of nearly everything, from a choice of four different CPUs to what sort of thermal paste goes onto your heatsink.
Beyond the complete control and bang for buck that Aftershock PC offers, they say their service also helps bring in customers. And good service is what Aftershock PC has always focused on, right from the start.
According to Marcus, all notebooks carry the same components from the same brands. So something more is needed to set an 'indie' brand apart from the big boys. That's where they were able to step in.
"Most customers walk in [with a problem], we solve it on the spot and they walk out. [Our] standard is a few hours. A big company cannot meet this. [It's not] that they're not attentive but it's very hard to micromanage this sort of thing," Marcus said. He also mentioned the company's online service. Customers could go to their website and immediately speak to a real person who knew about the product instead of an automated voice.
22 year old Jonathan Lim has bought two laptops from the company, the XG17 and XG13 models. "They're willing to go the extra mile for you in terms of troubleshooting and speed of response," he said of Aftershock PC's service. "You can even bring your own parts and bring [it] to them and they will fix it into your Aftershock for free."
Local t-shirt designer Xuan Ming also owns an Aftershock. He does his designing on an Aftershock X15, and said that "before, during and even two years after purchase, [their] service remains excellent."
It's no surprise why Marcus describes Aftershock PC's reputation as viral. While their products are solid, their community engagement is what moves laptops the most. A happy customer tells his friend about the brand, his friend goes on to buy it. Satisfied with their purchases and the level of service received, these customers go on to leave little reviews on forums and spread the brand's name to friends and families.
"If you deliver a good product and good service – and we're known for having the best service – then there's nothing else to say. Customers can tell for themselves," Marcus told me.
While they've spent money running ads and contests, Aftershock PC could do pretty well just by friends' recommendations alone. The guys weren't keen to reveal sales figures, but agreed that they were substantial. It must be a comfortable figure, or Marcus wouldn't have been watching Pokemon boss battles on YouTube when I arrived.
For most folks, that's enough to think that they've made it. Success is rolling in to work well after everyone else, right?
Not for the guys at Aftershock, though. In the last one and half years they've expanded their product lineup from two to seven models. They've covered the user spectrum by including a beast of a machine – the Aftershock Titan – and the lightweight Aftershock HALO.
Hardware customization has also moved from the inside to out. Besides providing top notch customization options, Aftershock PC has pulled in a full time designer and started tackling their laptops' exteriors.
Today customers can get their Aftershock laptops with 3M wraps: the same wraps with same designs and colours used on cars. Aftershock is also working on spray-painted covers, and not just any spray-painted covers. While the interview went on, their designer was all the way in the West of Singapore, using spray-painting equipment from a car workshop.
That's the next step in exterior customization, which Marcus says can take airbrushing and laser etching. Pretty soon, your Aftershock PC will look and feel the same way a BMW car will, because they're using authentic Spies Hecker paint (the same type used for premium cars) to do up the covers.
With so much going on, it makes you wonder how long more Aftershock PC will stay ensconced in their Serangoon Road shophouse. Business is moving "slow and steady," according to Joe. They have intentions to expand with their second showroom in Funan Digitalife Mall up and running smoothly. The next step is into the West of Singapore, where they're eyeing another showroom, this time in the heartlands.
From the start, Aftershock PC's goal has been "to become the dominant brand in gaming notebooks in Singapore." They're certainly well on their way to achieving that, if they haven't already done it. But now that Singapore is conquered, where else is there to look but out?
(Photos: Aftershock PC)
---
This gaming post was originally published on our new sister site Games in Asia, which you should totally bookmark and follow on Twitter and Facebook now.

Facebook Conversation
comments