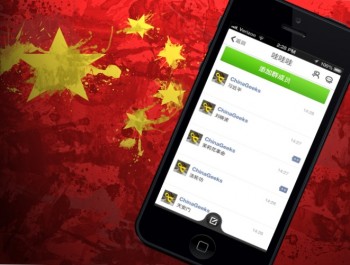 Everyone in China seems in a hurry to rush after WeChat now for some reason. Why they waited until the app had more than 200 million active users is beyond me, but we just saw the rollout of Yixin, and now Sina has launched WeMeet, a Weibo-based chat app that we took a look at last night. As is probably obvious, I'm quite skeptical of the app's chances at catching up with WeChat at this point, but for the moment I want to look at something completely different.
As my colleague Paul wrote yesterday, one of WeMeet's marquee features is its focus on groups. It allows for much bigger groups than WeChat (which caps them at 30) and makes it easy to separate big group announcements from idle chatter. On the one hand, that's very cool. On the other hand, doesn't this sound like sort of the perfect tool for organizing, say, a large-scale protest? With groups capped at 100, and new groups extremely easy to create (it takes about five seconds), it wouldn't be difficult to create a few groups and subsequently be able to send messages to a thousand people with just a few copy-pastes.
And although Sina is presumably censoring the service, it doesn't seem to be filtering any keywords. I was able to create a new group and post a bunch of messages with politically-sensitive keywords easily, all via my Sina Weibo account, which still isn't associated with my real name or identity. I posted one of the same keywords on Weibo and it was deleted within a few hours, but as of this writing it's still sitting there in my WeMeet group, happily un-deleted. And when I searched WeMeet, I quickly found a group set up by someone else called Grass Mud Horse. As far as I'm concerned this openness is quite cool, but I have a feeling Sina's friends in the government may not see things that way.
WeMeet isn't doing much that Weibo hasn't already done, true, but the fact that it's mobile, it places such an emphasis on groups, and it allows for easy location sharing could make it more of a concern to authorities than the already-closely-watched Weibo. It's quite possible that Sina could be forced to implement keyword blocks, add an approval process for group creation, or even lower the total number of people allowed in a group.
But of course, if Sina is forced to rework those features, what will WeMeet offer that WeChat doesn't have? I'm not sure. The app is clearly focused on capturing the power of the group ("Together! Together! Together!" cheers one of the introductory screens when you first download the app), but "the power of the group" is not a concept that China's government loves, unless the group in question is the Communist Party. Sure, most of the groups on WeMeet right now are extremely innocuous things like 'Photography Lovers' and 'Share your meals', but it seems like a matter of time before someone uses the app's fairly powerful tools to organize a protest or something else the government isn't excited about. And when that happens, Sina could once again find itself caught in the crossfire.

Facebook Conversation
comments