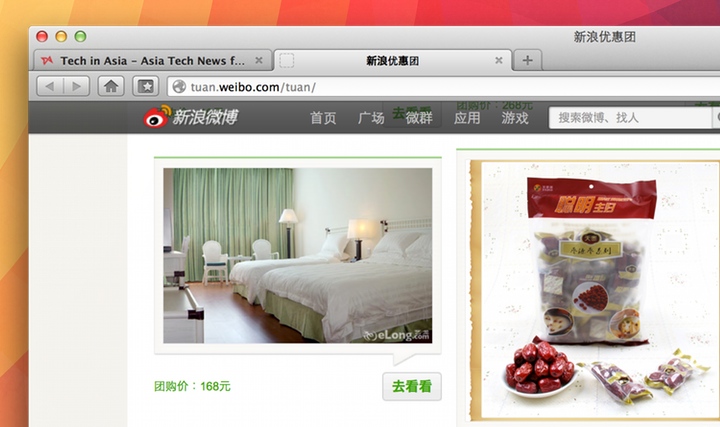 It's only been about five weeks since e-commerce titan Alibaba invested nearly $600 million to take a significant stake in Sina Weibo, China's hottest Twitter-esque site. But already there's been a major social commerce melding going on with the launch of daily deals on Sina Weibo. The brand-new deals portal on Weibo is centered around tuan.weibo.com, but users (of which there are over 500 million registered) will likely find these group deals popping up in their social stream.
If it's a paid deal (as most are) anyone who clicks the deal is lead from Weibo to the respective vendor's e-commerce site. Yes, there are no actual transactions going on on Weibo. But if it's a free or promotional deal and a Weibo user fancies a chance at claiming and winning it, he or she will first have to follow the vendor and retweet the deal – as seen in this screenshot of a free travel package offered by travel booking site eLong directly on its official Weibo page: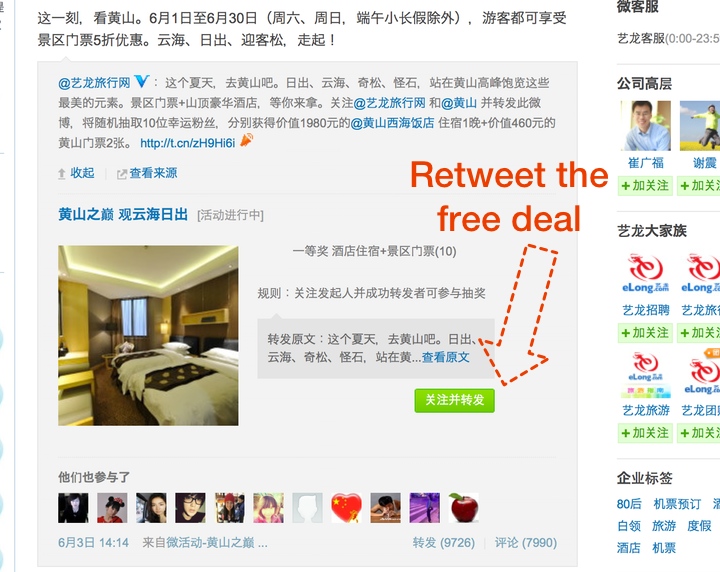 Nearly 10,000 people have retweeted that particular travel deal pictured above with three days remaining on the offer.
The new Weibo deals (spotted by the TechNode crew) are not tied to Alibaba, and they appear to be an open platform for Sina Weibo's corporate users to sell things directly to their followers. It should help greatly with the monetization of Sina's (NASDAQ:SINA) leading social service, which has been proving costly to run.
But of course, with so many smaller vendors in China using Alibaba sites like Taobao and Tmall, the new Weibo deals will prove to be a great traffic driver for those C2C and B2B2C stores.
Sina Weibo added Taobao ads shortly after Alibaba's investment was announced. Those ads are not yet targeted. Between the possible targeting of those ads and a conceivable evolution of social commerce on Sina Weibo so that things can be purchased directly on the social site, there's still a lot of interesting things left to be implemented.

Facebook Conversation
comments