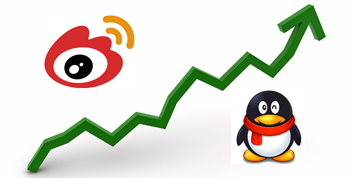 In May, the Chinese government came down hard on Chinese web celebrities, launching a campaign to contain provocative news and rumors. Several found their accounts, some of which had more than a million followers, suddenly deleted or blocked. Eventually, celebrities agreed to the government's seven-point proposal to censor themselves.
At the end of last month, we reported Shanghai police investigated 170 suspects for creating 380 online rumors.
And just this week, China's supreme court announced that any Weibo post considered "serious defamation" could land the poster three years in prison.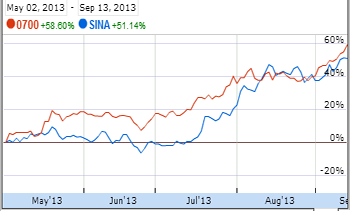 But this news of social media being slowly throttled has affected neither Sina's (NASDAQ:SINA) nor Tencent's (HKG:0700) stock prices, which both continue to rise admirably. Both companies are heavily vested in Chinese social media. Sina Weibo is the most popular Twitter-like social network in China. Tencent also owns a less popular Weibo platform, as well as the WeChat messaging app and QQ messenger. Their shares have both risen more than 50 percent each since May. This week, Tencent's market cap overtook McDonald's.
To be fair, these numbers are in line with other Chinese tech giants. Since May, Baidu (NASDAQ:BIDU) shares rose about 60 percent, Netease (NASDAQ:NTES) 40 percent, and Qihoo 360 (NYSE:QIHU) a whopping 150 percent.
Still, it seems Tencent's and Sina's investors care little about the stricter censorship. That's especially surprising for Sina, whose less diverse portfolio is being more heavily scrutinized. The trend could also reflect the fact that Chinese netizens will continue to use these channels because they have little other choice. So long as active user numbers and revenue aren't affected, we'll likely see Tencent and Sina shares continue to climb.
Hat-tip to Bill Bishop (@niubi) for spotting the trend.
(Editing by Charlie Custer)

Facebook Conversation
comments