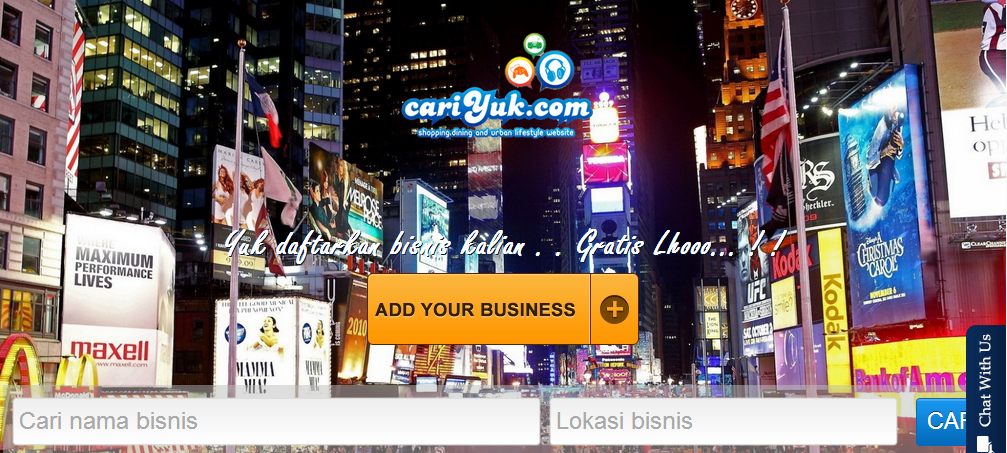 If you love shopping and are crazy about anything discounted; if you want to know malls, shopping, and dining centers near your location; if you want updates on new products and events; or you want to promote your own business, you can do all of those things on CariYuk.
CariYuk, which literally means 'let's search' in Indonesian, is an online directory where business owners can easily post all their business information. They can set their location and add a map, list outlets, addresses, phone numbers, upcoming events, products promos, discounts, and more. They can sell vouchers or coupons. CariYuk aims to help business owners market their stores, products, and services and reach out to more customers in a cheap and effective way.
Besides listing handy information about businesses and products, CariYuk also promotes and rewards social interaction (which CariYuk claims is its strongest feature). Users can post comments, reviews, and pictures of the business to receive rewards. The viewers will get points that they can redeem for merchandise or vouchers. It could be an interesting and effective strategy to attract viewers. Since it launched in Indonesia in June, CariYuk saw over 600 members sign up. Currently, there are 4,000 to 5,000 page-views per day.
Not just focusing on food
Founder Darman Mulia Tanudjaya says CariYuk has no head-to-head competitor because other directory platforms focus on very limited categories. CariYuk offers 20 categories, such as cars and tools, home and decoration, and tourism and travel, to name few. Darman explains the reasoning:
What makes CariYuk unique is we do this based on our needs as users and also apply our experience as business owners. We see Indonesians like variety. For example, most Indonesians like to eat padang, where you would be offered many options to put on your plates. That's why the philosophy of CariYuk is not like others, very narrow, covering just one category such as food. We know being too wide also can be a burden, but we can start with focusing on one or two big categories and the rest will follow.
My personal favorite is the 'Near Me' feature, which allows me to find businesses, product promos, and delivery services near my location.
In the meantime CariYuk monetizes from ads. In the future, yearly subscription fees from business owners and commission from selling vouchers and products will be other sources of monetization. The startup also plans to build connections with credit card vendors and malls to gather more info about retailers. CariYuk doesn't have any investors at the moment, but is open to investors with a similar vision, and who help both financially and as mentors to develop this company.
CariYuk is available as an Android app.
(Editing by Paul Bischoff and Steven Millward)

Facebook Conversation
comments