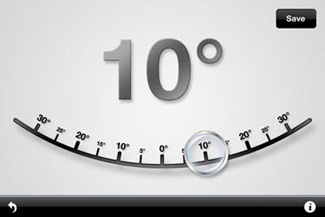 We have mobile apps for almost everything, including medical/health related apps – or health 2.0 apps, as geeks would say. Dr Kevin Lau, a renowned chiropractor from Singapore, developed an iPhone app for anyone to track their personal progression of scoliosis, which is an abnormal lateral curvature of the spine.
This app is essentially a smart, digitized scoliometer (click here for image). We talked to Dr Lau, who was the first in Singapore to provide a non-surgical treatment for scoliosis in 2005, to help explain to us how the app works:
ScolioTrack helps measure how much rotation there is in a spine. When a spine curves, such as when a person bends forward, the ribs on one side should protrude. Doctors use a device called a scoliometer, which is what the iPhone app is – but this has the added benefit of tracking and saving the data in the iPhone, including your age, weight, height, and a picture of your back.

With ScolioTrack, the patient can track the curvature in the spine from month to month by using the iPhone accelerometer, just as a doctor would with a scoliometer.
So far, the app has had 1,000 downloads per month, with little marketing effort. Dr Lau also told us that the Android version will be released in the next six months.
Here are some pictures of the app, you can download the paid and lite versions here and here:
Dr Lau's ScolioTrack iPhone app reminds me of Daniel Kraft's TED talk in which he talked about the next few years of innovations in medicine, powered by new tools, tests, and apps. "This is the iPhone 4, imagine what the iPhone 8 will be able to do," said Kraft.
We have previously written about other smartphone applications for health, namely an EKG app used in Japan, and another in Singapore to promote healthy eating.

Facebook Conversation
comments