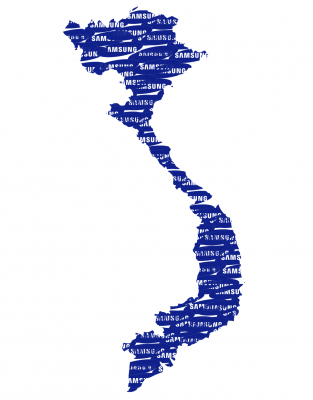 Samsung (005930:KS) built its first manufacturing plant in Vietnam in 2009, pumping in US$700 million to build it. In 2012, the value of the exports from this plant exceeded $12 billion, that's up from $7 billion the year before. That's a return of $17 for every dollar invested. It represents a whopping ten percent of the value ($114.6 billion) of all exports out of Vietnam. To say the least, electronics manufacturing is becoming the new backbone of the Vietnamese export economy.
Following this quickly growing trend, and significant government-level support, Samsung is pumping another $3.2 billion into building another factory in Vietnam's northern province of Thai Nguyen. Construction started yesterday. The huge project will see the building of a major handset and hi-tech electronics plant and a microchip manufacturing plant.
If this new plant performs as well as the first, it may end up producing well over $40 billion in Samsung exports per year. Samsung expects the first plant to produce $16.5 billion worth of exports by year's end.
Although there have been rumblings of Samsung opening up plants in Nigeria and neighboring Indonesia – and many existing plants in China – it's possible that the Samsung in your hand was made in Vietnam.

Facebook Conversation
comments