As mentioned in a previous post, I surmised that the Indian smartphone market was just about to take off. Well, here are the numbers to prove it.
Last fiscal year, India's mobile market took in a whopping Rs 35,946 crore ($56 billion). That's a 14.7 percent increase over 2012. And who's leading the charge for all these smartphones? Samsung and local handset producers. That's right. It's Koreans and Indians that are now rising in India while Nokia slowly falls to second place.
And although (as you can see in the chart below), Nokia still has a nice lead on Micromax, what should be noted is that Samsung's key growth has been in smartphone category. Samsung offers a wider selection of prices and form factors that Nokia is having a hard time keeping up with, especially being in bed with Microsoft and Windows Phone. Nokia's revenue dropped a whole 18 percent. So as India makes the obvious shift into smartphones, Nokia is bound to fall behind further if it can't come up with something compelling for Indian consumers.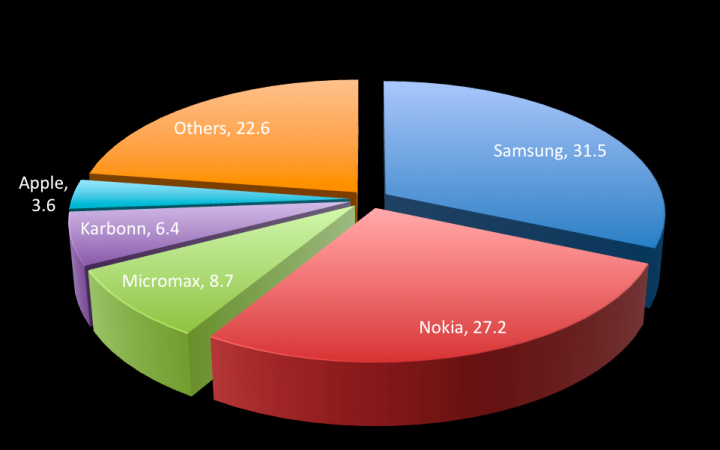 Take note that Micromax and Karbonn are both Indian homegrown handset makers. And although they're still not as significant as China's Huawei and Xiaomi in their home markets, they're making significant strides in India. Micromax grew by 58.6 percent, Karbonn grew by 73.1 percent. And the dark horse in the chapter, Apple, grew a staggering 417.2 percent. All in all, for this past fiscal year, Nokia is the only clear loser in India's mobile market.
Along with this, India's been making some interesting strides in mobile. There's new chat apps on the scene, there are growing number of Android apps, and the Indian government is even allowing foreign telcos to take a piece of the pie. It looks like we're bearing witness to a sleeping giant that's now, finally, waking up.
On the other hand, maybe this giant is coming around too slowly. Compared to China's highly aggressive smartphone market, India is still some distance behind.
(Editing by Willis Wee)

Facebook Conversation
comments