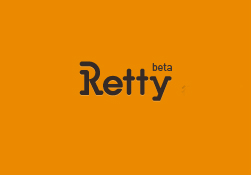 Earlier this week, Japanese social gourmet service Retty (retty.me) raised 22 million yen (or approximately $285,000) in funding from investors. Included among the investors was CyberAgentVentures, who relayed to us through a representative that the service stood out because of its exceptional social functions.
We thought we'd take a closer look at Retty, so we got in touch with the company's founder and CEO Kazuya Takeda. The service just started in November of 2010, so it's still pretty young. Kazuya says that the service aims to solve two problems:
to find restaurants where you would like to go
to 'stock' or collect a list of restaurants that you have visited, and wish to visit in the future
From a quick test of the web service just now, Retty looks very exciting. I logged in with my dog's Facebook account, because I don't like authorizing third party services with my own. I've redacted his name at his request. As you can see from the picture below, the main content stream can be sorted using three tabs: 1. Following (i.e. users you follow), 2. Selected area, or your preferred approximate location, and 3. Everyone.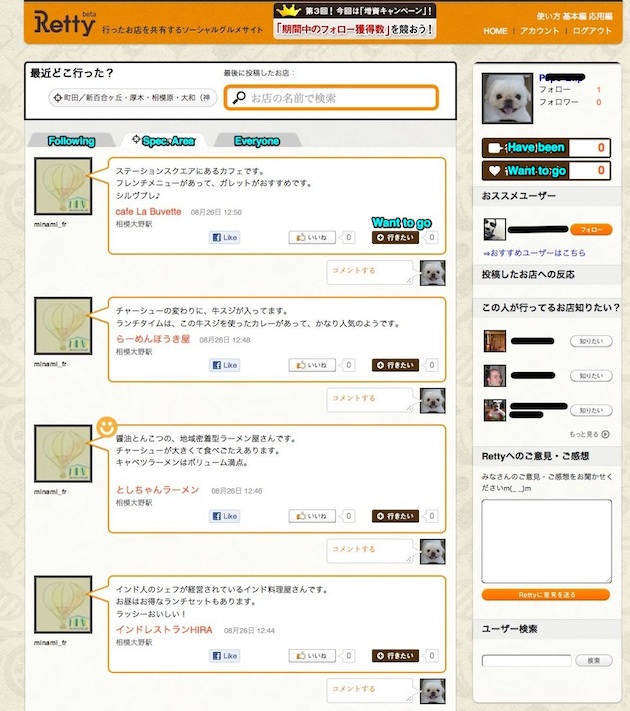 This means that you can keep up to date on places that your friends frequent, as well as restaurant goers in your general vicinity. When you see a restaurant you like anywhere in the stream you can click 'Want to go' and it gets added to your want list. When viewing individual restaurant pages (which includes a Google Map) you can perform this action too, and you can also submit a short review/rating by clicking 'have been there.'
We're not quite sure how many people are using the service yet, since Kazuya isn't disclosing any user stats yet. But when asked about this week's investment he seemed quite pleased:
CyberAgent is one of the biggest Internet companies and it also knows a lot about success. We'll collaborate with them, and we will succeed!
The revenue model for the service is similar to that of existing gourmet sites Tabelog and Gurunavi, with restaurants paying a fee to get listed on site.
Kazuya mentioned that the company plans to expand globally, which is very ambitious for a service so young. He added that "In September we are launching an iPhone application, the second step for driving our business."
Back at the Global Mobile Internet Conference earlier this year, one buzz word that we heard often was 'SoMoLoCo,' which stands for 'Social, Mobile, Local, and Commercial' — this was said by many to be the next big thing for the mobile internet. Retty is off to a very promising start, checking off all four of those criteria — the only question that remains is how far can it go.

Facebook Conversation
comments