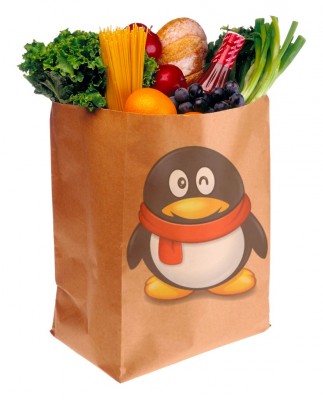 Well here's a headline I wasn't expecting: according to a report in Southern Metropolis, Chinese tech giant Tencent is interested in getting involved in the burgeoning grocery e-commerce market in China. Supposedly, the company has been talking with retail operations like Tesco China and China Resources about joining forces to create an online groceries subsidiary. Supposedly, Tesco has already come on board, but this whole report seems quite thinly-sourced and should be taken with a grain of salt until we hear something official.
Tencent has not had a ton of success in e-commerce, but it appears to be headed in that direction with the latest version of WeChat. Whether or not people want to buy their groceries in a chat app is an open question, but China's e-grocery market is a bit more mature now than it was when Yihaodian launched years ago attempting to focus on the grocery market.
Chinese consumers have mostly gotten over the trust issues associated with buying things like clothes online, buying food is another story. Will they be OK with having someone from an e-commerce outfit pick out their fruits and veggies instead of picking them themselves? If the success of Chinese food startups like fruit e-commerce site Guocool is any indication, the answer might actually be yes. Tencent's potential expansion into the e-grocery market is definitely something to keep an eye on.
(Southern Metropolis via Techweb)

Facebook Conversation
comments