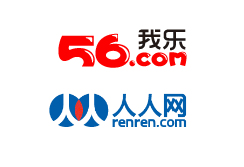 Social networking service Renren has just announced that it has acquired 100 percent of 56.com, one of China's video streaming services. The deal is worth $80 million dollars and is expected to be finalized in the fourth quarter of 2011.
56.com is one of China's leading video sites, though it ranks well below competitors Youku, Tudou, Ku6, and Qiyi in terms of visitors. You can view a breakdown of the China's video space in the chart below, according to numbers from iResearch.
Juan Zhou, the co-founder and CEO of 56 said in a statement:
We are excited to become part of the Renren family… Given its user base and broad offerings in SNS, mobile, and social commerce, Renren's platform will provide deeper resources and support to enhance 56.com's attractiveness to users.
As for Renren, the so-called 'Facebook of China' is the nation's leading social network, but is faced with competition from an increasingly popular Sina Weibo. Renren chairman Joseph Chen notes that by picking up 56.com, it will help "meet user needs of recording and sharing their lives through video format on our social network."
[Via Techcrunch]
Have Your Say!