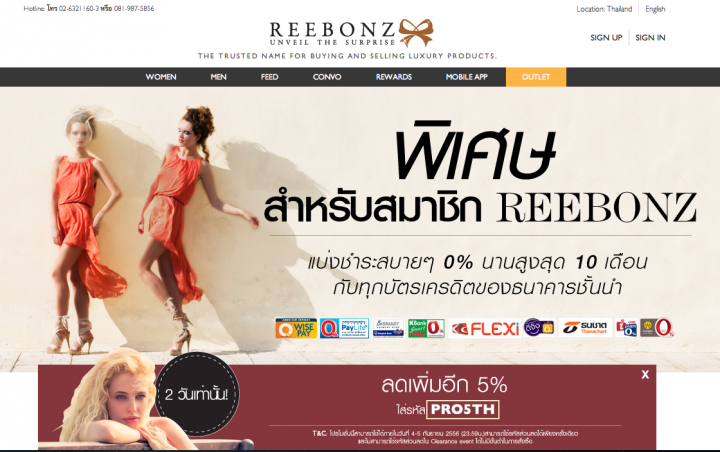 According to Global Blue, Thailand's growth in spending on luxury products soared by 68 percent in the first half of the year overtaking the Chinese (39 percent) as the fastest growing international shopper market this year. The trend I'm seeing more and more is high income earners flying out to European countries just to carry back some luxury leather goods. But Reebonz makes all those high-end items more affordable for normal people whose hearts have a soft spot for luxury labels. I couldn't figure out what all these hype is about, but all of my girlfriends just can't do anything else besides showing off what they've bought from the site. Thus, I had an urge to dig more into it myself.
Singapore-based luxury private flash sales site Reebonz came to Thailand back in 2011. Although Thailand wasn't the first expansion for Reebonz after Singapore, Benjamin Han, one of the company's co-founders, says Thailand is now one of the top five markets that Reebonz is in. There are now more than 10 staffers in the Bangkok Reebonz office.
Reebonz currently has eight offices in Asia (Singapore, Malaysia, Thailand, Australia, Taiwan, Hong Kong, South Korea, and Indonesia). It also ships to most Asia Pacific countries as well as the United States. Ben explained to me:
We will continue to grow the market which we are currently in while looking at new product verticals.
New product categories coming
Although, Ben couldn't divulge what those new product verticals might be, he did talk about the key factors in how Reebonz remains one of the most successful e-commerce sites in Asia:
It's a mixture of two things – a wide variety of products for our members to choose from, and then many different payment options for them to access.
After the third round of funding back in May which valued the company at $200 million, many people, including myself, are eagerly waiting to see what the e-store does next.
(Editing by Steven Millward)

Facebook Conversation
comments