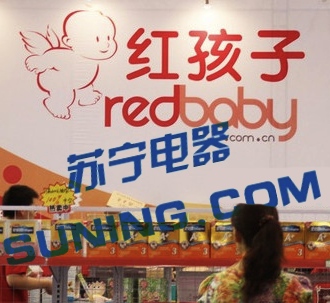 $66 million is better than a slap in the face – but it's a hasty and rather desperate exit for Chinese infant supplies e-commerce site Redbaby, once thought to be one of China's most promising specialist e-tailers. Redbaby is acquired by Suning (SHE:002024), one of China's biggest electronics retailers, which has recently been pushing hard into e-commerce.
The valuation is apparently based on Redbaby's previous year's sales revenues of RMB 1 billion ($158 million). But the B2C site raised four rounds of funding in its lifetime, the most recent being this August when it secured $20 million from NLVC, NEA and KeyTone Ventures. KPCB had participated in earlier rounds too. In total, just over $100 million was invested in Redbaby over the years, suggesting that investors are losing out badly.
The acquisition was confirmed by a Suning press conference in Beijing this afternoon. It had been rumored for months, along with talk of Redbaby.com.cn being close to the brink of collapse. Redbaby brought in nearly RMB 1 billion in sales in 2008, but thereafter it struggled to grow – yes, it didn't really grow in terms of revenue from 2008 to 2011. Plus, the pricey B2C model of buying up all the goods and shipping them out proved to be too costly. Its main rivals turned out to be a variety of other online malls that strengthened their children's clothing and foodstuffs lines, such as Tmall, 360Buy, and the Walmart-controlled food seller Yihaodian. In the end, iResearch data for 2012 H1 showed that Redbaby had been squeezed down to a mere 6 percent market share in the mother-child products sector in China, with Alibaba's giant Tmall leading the way.
Redbaby – which was founded way back in 2004 – even moved into brick-and-mortar stores and its own lines of infant clothing, but that all proved to be an even bigger drain on cash reserves.
Suning gets a bargain for its money, and will likely add children's items as a new product vertical on its Suning.com e-commerce site, which has recently grown to be China's fourth-largest B2C service. We'll update with more future plan details as the press conference wraps up.
Earlier this year, we've seen two other specialist Chinese e-tailers collapse (Yaodian100 and Vcotton) under the strain of operation and marketing costs.
[Source: QQ Tech - article in Chinese]

Facebook Conversation
comments