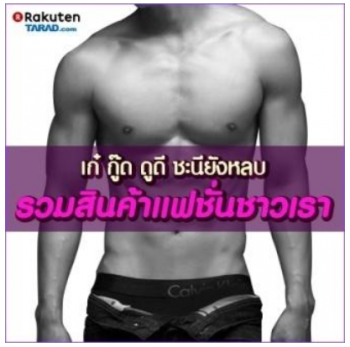 Rakuten-owned Tarad.com recently launched its first 'Get Fit and Gain Muscle' promotion to encourage Thai guys to get fit and gain muscle. The campaign also offers discounts of up to 50 percent on some fitness-related items.
What makes Tarad's social marketing campaign stand out is that it's targeted specifically at gay men in Thailand.
From a total of 24 million Facebook users in Thailand, the e-store found that 320,000 (1.34 percent) of the social network's users in Thailand identifies themselves as males who are interested in men. With that number in mind, Tarad created a simple Facebook ad campaign – costing just $400 – targeting that specific audience: gay men aged 20 to 60 living in Thailand.
The cheeky message of this campaign was "Be more beautiful and put the ladies to shame".
Sales up
The company claims that almost half of its targeted audience has seen the gay-themed Facebook ads.
This segmented marketing resulted in more than 1,300 new Facebook 'likes' for Tarad's brand page, which is three times higher than the regular rate of new likes. Those clicks changed into open wallets as the website's sales increased by 200 percent during the promotional period, claims Pawoot (Pom) Pongwitayapanu, the MD of Rakuten Tarad.com.
Although using Facebook ads for marketing is not new and it was very small scale, the Tarad team considered it a successful campaign – especially as it reached half of all the 'men interested in men' in Thailand. Perhaps engaging with niche audiences can prove more effective, for some businesses, than conventional advertising. That's word of mouth marketing right there.
(Editing by Steven Millward)

Facebook Conversation
comments